Stacey Altherr, a writer for Newsday, recently wrote an article about Sheila Lurie Isaacs of Shoreham.  Isaacs is 78 years old and going strong, especially in the triathlon circuit.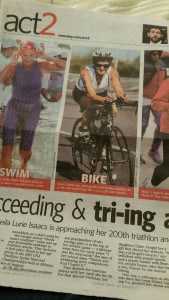 I read this article and was inspired and impressed with Isaacs' accomplishments. Her 200th triathlon is soon approaching and according to the Altherr's article, she's finished triathlons in 50 states.
Like Isaacs, I too started triathlons at age 53. Reading her story gives me hope that I have a good 20 years of triathlons in me too!
I've been actually seeing a trend in older women getting into triathlons. I don't know if it's a mid-life crisis or a hormonal imbalance but I will say that it makes me feel great seeing others like me on the race course!
There was a box at the end of the article that talked about how to get started.  In addition to what Altherr advises, I would also suggest attending the NY TRI EXPO on March 19 from 10 – 6 pm at Citi Field.  There will be lots of great information for newbies to experienced triathletes. Sessions will focus on swimming, cycling and running but there will also be sessions on nutrition, injury prevention and strength training.  We will even have a yoga demonstration from one of Sage Roundtree's prodigies. And, an amazing panel on wearable technologies will also be on hand to discuss and demonstrate their newest products to help athletes reach their goals.
I'm excited to hear Matt Dixon, a former pro-triathlete and guru in the triathlon community.  He'll be coming from San Francisco to give a presentation on effective training techniques.
Further, I can't wait to meet Matt Long, NYC Firefighter who overcame enormous challenges to go on to be an Ironman triathlete for the 2nd time in Lake Placid!  Matt will be receiving the "I WILL" award at the NY TRI EXPO.
There will be 60+ vendors who will have competitions, offer lots of samples and more!
For your all-access pass, go to http://www.nytriexpo.com/registration and use the code ATD_NYTE10.  This will get you $10 discount to the expo. Currently until 2/15, there is a special promotion to buy one get one half off. You can use the discount code in conjunction with the special.