The 11th Annual Colfax Marathon Becomes Only Full Marathon in Denver
Runners, get ready for the ultimate urban tour of the Mile High City on the weekend of May 14-15, 2016 and experience Denver and its landmarks in an unforgettable way. With seven events over two days, the Kaiser Permanente Colfax Marathon is Denver's signature race weekend and is officially the only full marathon in the city of Denver.
The fastest growing race category is the Marathon Relay, one of the largest in the country, with more than 1,000 teams competing and splitting the 26.2 miles with five teammates.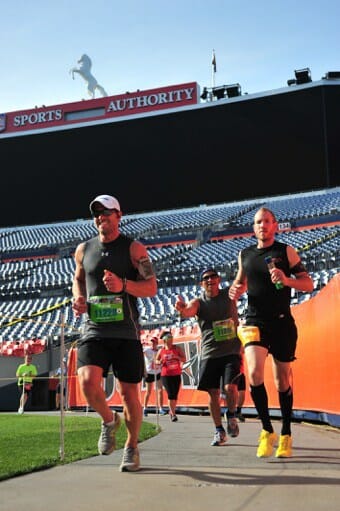 It is a great way for entities such as companies, schools, and nonprofits to involve their employees and their community to live a healthy lifestyle and even create some competition among one another.  For 2016 four new divisions have been added including the Military division with active military service men and women taking on a leg of the marathon such as the shorter Screaming Downhill with panoramic Denver views, or the longer Downtown River Trek. 
"We couldn't be more thrilled to say we are Denver's only marathon in 2016. This  year is sure to bring runners more excitement on and off the course. The health and fitness expo is back at Sports Authority at Mile High giving runners a full weekend of events," said Andrea Dowdy, CEO of Colfax Marathon.
More than 180 nonprofits raised money in the charity partners program in 2015, making the Colfax Marathon the 3rd largest charity partner program in the country (New York and Chicago are #1 and #2). Companies compete for $50,000 for charity in Colorado's biggest corporate race.  More than 50 teams that win overall or industry awards will each win money to designate to a nonprofit of their choice.
More About the Colfax Marathon: 
The 11th annual Kaiser Permanente Colfax Marathon takes place May 14-15, 2016. Events include the full marathon, half-marathon, marathon relay, Urban 10 miler and Colfax 5K. Established by the cities of Aurora, Denver and Lakewood to encourage Coloradans to be healthier, the marathon has established itself as an iconic race for the mile-high city. We support local charities and nonprofits by providing one of the country's biggest fund-raising platforms through our Charity Partners Program. We are proud to partner with corporate sponsors who make our race a success, including: Kaiser Permanente, DaVita, 9News, The Denver Post, Comcast, Jim 'N Nick's Bar-B-Que, Clif Bar, Michelob Ultra, Alice 105.9, and The Mountain 99.5. Visit us at www.runcolfax.org, facebook.com/runcolfaxdenver, and on twitter @runcolfax.