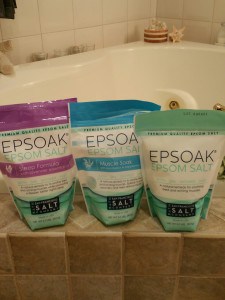 Recently, I had the opportunity to try out three different kinds of Epsoak Epsom Salt — Sleep Formula with Lavender essential oils, Muscle Soak and regular.
First off the regular, Epsoak Epsom Salt works like a gem.  It's a natural remedy for soothing tired and aching muscles, which lately I feel I have all the time.
Talk about recovery — taking an epsom salt bath is awesome. It feels so good after a hard work out. But, you can also use the "regular" Epsoak Epsom Salt for the shower, to exfoliate, for a foot soak and you can even put it in your garden!  According to the package, Epsom Salt has been used as a natural garden additive for centuries to boost magnesium/sulfur levels.
What I love about this company is that it's a San Francisco Salt Company and the salts are made right here in the USA!
The Sleep Formula also rocks. I have been extremely stressed lately and using it made me feel more relaxed.  I love the lavender scent.
But the Muscle Soak is probably my favorite. I love the eucalyptus and peppermint essential oils in the salts. It smells awesome and it really works.  It's perfect after a long run, cycle or even long open water swim! I plan on using this all summer long.
The ingredients calls for two cups of water in a bath so it runs out quick but I'm telling you one thing, it's definitely going to be a race to the Internet to buy some more!
You can get a single pack or a triple on line at http://www.sfsalt.com. Prices range from $9.99 and up!