I love working out. (But you already know that.) I like wearing different outfits to the gym. It just makes me feel good. And, when you "look good, you train hard" according to FILA's new spring 15′ Training Collection promotion.
Recently, FILA sent me a sample of their new clothing line the FILA Spring "15 Training Collection to check out. It's specifically geared for the gym, yoga or any just, as my mother would say, "knocking around."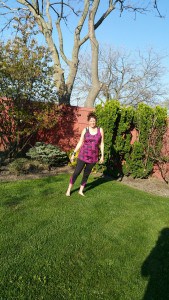 The material has a wicking component that helps keep you feeling dry throughout your workout, even if you're sweating. The Move it Lose Tank top is a pink and black patterned top that has a swing to it. It's long and covers all of those areas that need covering! I love the racer back.
The Bella 3/4 Capri pants are black with the pink and black accents to match the top. The Capris are made of brushed poly spandex (88% poly/12% spandex). It has an inside front waist key pocket, which is very handy when you're on the go!
I tried the large but it runs big.  I would suggest going down a size. The next time, I would try a medium.
The set is extremely comfortable, durable and washes well. It looks great and when you look good in the gym, you tend to perform better.
What's great about FILA is it's a quality brand and yet, you can buy it at Kohl's and JC Penney so it's not incredibly pricey!   You can also get these on the www.FILA.com website.