Over the past 7 years I have completed many sprint, olympic and half ironman distance triathlons.  I've been lucky enough to receive numerous overall and age group awards in each distance.  But yet countless people have asked me if I've ever done a whole one, a full one, a real one, an Ironman.  Those questions swirled in my head and made my accomplishments in triathlon feel less valid and important.
Just before I turned 48 I decided it was time to face the ultimate triathlon challenge.  With the urging of fellow racers and the support of my family I signed up for Ironman Lake Placid 2014.  I was amazed at how many congratulations I received by registering.  I knew It was going to be a long journey to the finish line.  It was not time for applause yet.
I had so many concerns.  Did I have enough time to prepare?  Could I do this without ever having run a marathon and no intention of running one before the big day? Can I become an Ironman and still attend the kids' soccer games?  Will I have to learn how to use my Garmin?  How much will that day hurt?  What if it rains on my Ironman day?  How will it feel to hear the announcer exclaim "Sharon Levy YOU are an IRONMAN!" … Oh no, what if I don't finish?
For the first time I hired a tri coach, in addition to my incredible private swim coach, Glenn Mills, Olympian and co-founder of GoSwim.tv.  The prescribed workouts were easy to handle in the winter.  Where were the long endless hours of training?  My coach promised me that I had plenty of time.  I decided to get a nagging foot injury diagnosed.  The orthopedist recommended that I stop running for six weeks.  I was worried that I couldn't afford such a set-back — would I still have enough time to get ready?  At my 6 week follow up the doctor recommended that I completely give up running, consider surgery and take up other activities.  This was not an option for me.  With the help of orthotics guru, Jeffrey Rosenstein of JR Orthotics, we revamped my custom inserts and changed my running shoes to ones with a much more stable forefoot.
I was happily back on my journey and resumed training.  But my heart started doing unusual things at rest.  Panic set in so I had my cardiovascular system evaluated at St. Francis Hospital.  All tests showed that my ticker was an amazing one.  The doctor said, "Keep up the good work, train as hard as you want and congrats on your race!"
I had always trained and raced by perceived exertion.  I never wore a watch nor a heart rate monitor.  I've had a Garmin on my bike for years but I was never able to turn it on in a race.  Results showed that my technique worked well for sprints, olympics and halves.  However, my triathlete friends insisted that I needed to go by the numbers (heart rate, power or both) to prepare for and complete an ironman!  Therefore, I subjected myself to a dexa body composition test and the grueling VO2Max testing on the bike and treadmill with video analysis at the Adelphi University Exercise Physiology Lab.  The tests were fun in a sadistic way.  I was given a 6 page report on my body's optimal zones on the bike and treadmill.  It was now time to become an endurance athlete robot.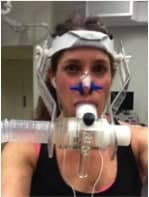 I noticed a distinct rise in my training volume and intensity.  More time was devoted to more mileage on the road and more hours on the Computrainer staring at the numbers.  My pool sets were logged by counting strokes, laps, seconds swimming each length and seconds at the wall.  I ran as much as I could tolerate but not a stride more.  On April 18th I had a turning point in my running.  Not only did it not hurt my foot, but my splits on the track were spot on and almost effortless.  That day I realized – I can do this, I will become an Ironman.  I was ecstatic.  2 days later I dropped a very heavy box which broke my pinkie toe on my bad foot.  A new doctor ordered no running for at least 6 weeks and asked me if I could get out of the race.  My eyes instantly filled with tears.  I couldn't drop out; people had already congratulated me.
I switched to a new tri coach, Anthony Carillo. He had faith in me as an athlete and that I could get to the finish line.  I couldn't squeeze my swollen toe into my cycling shoe for weeks.  At 6 weeks the x-ray showed that the bone was still not fused but luckily not displaced.  The doctor gave me the green light to run a quarter of a mile.  I wondered, did I still have time?  It was already the last week of May; my first race of the season, the REV3 QUASSY Half Ironman, was only one week away.  I contemplated switching to the aquabike division.  My coach suggested that I use the race to train. Even if I had to shorten the run.
I forgot to pack my heart rate monitor strap for Rev 3.  So much for those zones that were carefully determined.  I enjoyed racing Quassy Rev3 more than usual because I felt less pressure.  My son ran into to the finish chute and we crossed the line with big smiles.  It was not my best Half IM time but it was a test for my foot and my head.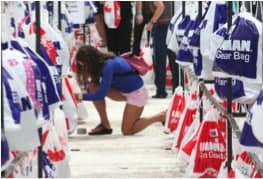 My coach carefully increased all of my swims, rides, runs and bricks.  Did I still have time?  Time seemed to speed up and it was quickly time to taper for Placid.  At that point my longest run had only been 15 miles.  Coach Carillo calmly reassured me, "It's better to go into this ironman healthy.  Don't worry.  Stick to the plan.  You are ready!"
I received more and more congratulations at packet pick up.  Don't congratulate me yet.  Anything can happen, especially since the forecast was for rain, thunder and lightning.
My heart was pounding and my legs felt like jello at the bag and bike drop off.  I carefully hung my tiny ninja warrior figure from my saddle. I begged him to protect me during tomorrow's 112 mile ride.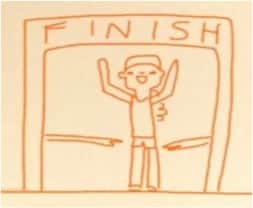 My 14 year-old daughter Erica had spent every free moment of the past 3 days on her iPad.  I nagged her to get off of her device, but she promised me she was working on something very important.  "Mom, when do you want to finally see what I've been working on?!"  I had a feeling it was going to be spectacular.  Erica tapped the screen and the most incredible movie began to play.  It was a simple yet beautifully powerful piece. Set to music, sound effects and their own voices, I am depicted completing an Ironman.  (To the right is one of the 319 frames that she drew.)  It ended with "you can do it! I love you mommy! xoxo" I cried and hugged Erica tightly.
I was relieved to wake up to a cloudy rainless morning at 3:45 am. The usual rituals proceeded according to plan and it was time to be at swim start. This is it. I was suddenly completely calm. It was the most relaxed I had been in the past 6 months.  I seeded myself towards the front. I was surrounded by men who all towered over me. The National Anthem was sung and the gun went off.  I thought of Erica's movie. I gave the race photographer a very cheesy smile as I walked across the timing mat.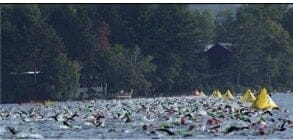 My entire 2.4 mile swim was thick with aggressive and adrenaline fueled athletes.  Heavy rain hit for my last quarter mile. I paid no attention to it nor the countless kicks, punches, shoves and splashes in my face.  I ran out of the water the same way I went in, smiling. My family and friends cheered and volunteers yanked my wetsuit off.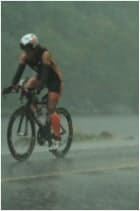 My transition tent volunteer assured me that it was getting warm. "If you don't mind getting wet, you don't need a jacket."  I passed on strapping on my heart rate monitor too.  I was on my way to ride 112 miles in the pouring rain.  I thought about the movie again and reminded myself that I could do this!  The roads were slick and I got so cold on the downhills. I wished I had my jacket.  I was thrilled to see climbs because I could warm up and pass people. I love hills. Until I dropped my chain.  A quick fix, grease on my hands and face, and I was back to pedaling.  The descents were either too steep, too long or both to enjoy in the cold downpour between nearby lightning and piercing thunder claps.  My hands and forearms were getting more fatigued than my legs.  I reminded myself that I promised my kids that I'd be safe.  This ride through the Adirondacks was too risky. Should I drop out?  I wasn't smiling anymore – until I came across the most energetic volunteers dressed in amusing costumes!   I got a huge boost of energy and regained my focus.  At mile 30-something, my bike felt odd.  I quickly discovered that my back tire was almost flat.  Give me as many obstacles as possible for my first ironman.  I'm still going to finish because I finish in the movie.  My numb fingers couldn't hold my tools firmly enough.  After the first 20 minutes of struggling I was shivering, peeing and crying.  Eventually I was ready to inflate my first new tube.  CO2 do your thing.  Pffffffffffffffft … Still flat and now frozen to my palm.  Second CO2 went pffffffffffft … Same. My Vittoria cartridge went pffffffft … Still flat.  I thought about the movie.  She had so much confidence in me.  Finally a race support motorcycle stopped but he had no supplies. He radioed the "tire guy" and left.  Sadly, the "Bike Support" SUV had no supplies either.  My only hope was that a Good Samaritan would help me.  After what seemed like thousands of riders flew past me I saw a friend.  I felt bad ruining his time but I needed his help.  We swapped the tube for my second spare and he used both of his CO2s for my tire.  I thanked him profusely.  He told me to be quiet and get going.  That breakdown cost me 65 precious minutes!  I was tempted to make up for lost time but I knew that riding too hard would cost me in the marathon.  I followed my coach's advice: stick to the plan, eat and hydrate.  I restocked tubes, CO2 and food at the special needs station.  Peter, Erica and Scott saw me and cheered like crazy.  My smile returned and so did the sun.  Lap 2 of the bike course went smoothly.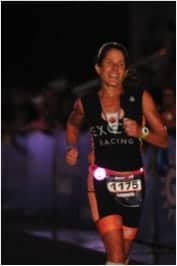 As I grabbed my run bag I suddenly realized that, oops, I was peeing again.  My T2 volunteer hugged me and wished me luck.  I cried and told her that I'd never run more than 15.5 miles.  She looked me in the eyes and said, "who cares, get started and the crowd will cheer!"  I ran out of T2 smiling just like I did in Erica's movie.  My run morphed into a jog and then into jog/walk intervals.  On the run course everyone was friendly and shared stories.  As the miles went by my mind wandered.  I wished that I hadn't gotten a flat, I'd be so much farther ahead by now.  This kind of negative thinking was not helpful.  Instead I thought of the movie, my parents (who were worried about me) and everyone who was rooting for me, tracking me or just thinking of me.  I played the movie in my head over and over.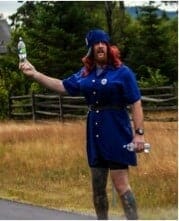 The highlights of my run included those high energy volunteers who were now in their second set of costumes.  It wasn't until days later that I found out I actually knew one of them.  His red beard and tattooed legs didn't register through my ironman-fogged brain.  My next high point wasn't until about mile 23.  I was overcome by some higher gymnastics power to do a perfect cartwheel in front of a DJ table surrounded by cheering strangers.  While I was upside down it hit me that I might end up on my butt.  In a split second I was pleasantly surprised to 'nail it' and carry on with my run as if nothing happened.  Then it was just pure joy.  I only had a short distance to go until I would hear Mike Reilly's famous voice announce my name and the word ironman in the same sentence.  Just like in the movie!  Erica was right. I can do this.  I felt like I was flying into the Olympic Oval and finisher's chute.  Peter, Erica and Scott were screaming, "GO MOM, GO MOM, YOU DID IT, GO MOM!" More high fives, more smiles, I even contemplated doing another cartwheel.  But decided not to push my luck.  I ran as fast as I could to the words  "SHARON LEVY COME ON HOME … SHARON LEVY, YOU ARE AN IRONMAN!"