Man Care for Down There for Women?
When I was approached by a PR firm to check out Chassis – Man Care for Down There – designed to help prevent chaffing, I would have never in my wildest dreams thought it would be a product specifically designed for men's genitals!
When the product arrived at my house, I was confused. Is this for me to review or should I have my husband sample it out first? The "Man Care for Down There" threw me off. I gave it to my husband.
"Tell me what you think?" I asked him.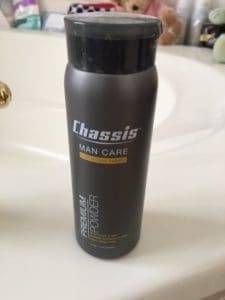 He tried it and said the powder was very smooth and silky. "It felt like it wasn't even there," he told me.
I dug a little deeper. I found that Chassis features a hydro-shield technology with a mild "manly" scent for protection against sweat, chafing and odor. The powder includes:
Hops – anti-inflammatory effects
Pumpkin seed – to promote natural oil regeneration
Aloe vera – to heal, sooth and rejuvenate while fighting bacteria
Witch hazel – astringent to help condition and protect the skin
Oatmeal – for antioxidant, anti-inflammatory and moisturizing characteristics
Chassis products are free from talc, aluminum, parabens and menthol. The product was dermatologist tested and cruelty-free.
I received a follow up email from the publicist. I asked her about the product, "isn't this primarily a man's product? Why would a woman use it in her gym bag?"
"It is, however, many women use it as a chafing powder or put it in their sports bra," she told me in an email. 
Either I'm too prude or there's something not 100% right about putting a man's genital product in a woman's sports bra, Did I miss something?
For those of you who want to try Chassis, go to Amazon and pick it up for $18.