MedZone – Prevent, Treat, Manage New Product Review
I met the guys from MedZone at the recent The Running Event (TRE) in Orlando. They are a relatively new company with four products —
PainZone – for sore muscles
ChafeZone – to prevent chafing and friction
BlisterZone – prevents blisters and hot spots
BurnZone – relief for burns and insect bites
They gave me a couple of samples but I misplaced them. When the CEO called me to follow up, I said, "to be honest, I got a ton of samples at TRE but I'm only reviewing the ones I love. And anyway, I'm going on vacation to Saint Maarten, so I won't be able to review anything until I come back."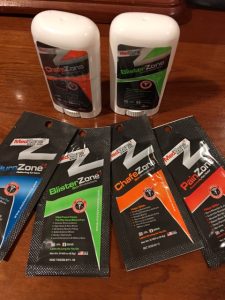 "Let me send you a couple more sample packs to take away with you," he said. "I'm sure that you will use them and you will thank me."
Now, I'm on vacation in Saint Maarten and you know what, I thank him!
I've been using the products everyday! I'm using the PainZone for my legs and hip since they've been hurting me for the past few weeks. I'm not sure if this is because I've been running a lot but I'm telling you, this product works! I woke up in the middle of the night the other night with a terrible pain in my hip. I applied it on with a roller and you know what? I was able to go back to sleep! Impressive!
I used the ChafeZone too. I used it and my family also used it. Whenever I swim, I find that I get chaffed on my triceps. I applied the ChafeZone and lala, nothing. I felt great! No chafing!
I also used the BurnZone for my face and various parts of my body that got burned from the sun. It really had a great cooling effect.  My daughter, who used it on a mosquito bite, said it didn't work. But, when she used it on her burn, she said, "you know, this really works!"
The BlisterZone — Believe it or not, I was cooking in the kitchen of our hotel room (it was a condo) and I splattered grease on my arm and burned it. It blistered. I immediately got the blister cream and put it on. I also used the BurnZone. I was surprised at how well it worked.
Interestingly, MedZone has been around since 2001 but was recently acquired. Their current customers include: NFL teams, NBA teams, MLB teams and the Chicago Triathlon.
I am honestly impressed. I used all the products when we went away and then after that until I finished all my samples and I plan on getting more! Oh and thank you to the CEO. He was right….