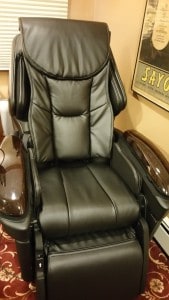 The more I get into learning about the sport of triathlon and the more I train, I realize that massage is vital for recovery.  I got a subscription to Massage Envy but I can't find the right therapist who will give me an adequate massage. I've been to Spa Castle in College Point Queens and they have incredible massages there but it's not feasible to go there every week.
So, I wanted to check out a massage chair to see if they worked. I tried out several at the Sharper Image but it wasn't until I checked out the Panasonic Massage Chair that I realized a massage for 15 minutes a day may be the answer to active recovery after a hard workout.
Check out my review on the Tech News Now blog to learn more about the chair and my experience testing it.