Pam Kallio of TriSports.com told me that she felt that Base Performance made her faster especially when she competed in Ironman Kona. Well, after hearing that, I thought, "I have to get some of that stuff!"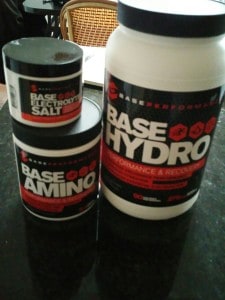 I tried my first Base Performance product when I became an Ambassador. (Full disclaimer, I applied to be an ambassador after seeing Mark Miller's posts on Facebook. The Base team looked like a blast and I wanted to get involved.)
So I placed my first order – Base Hydro, Base salt and Base Amino Acid. On the Base Hydro container, it said to combine all three together by using 2 scoops of Hydro, 1 serving of salt and 1 scoop of Amino Acid into your water bottle. That mixture creates RocketFuel.  And, if you drink RocketFuel during trainings or races, your time will improve.
I don't know if it's the RocketFuel or what, but I'm definitely seeing an improvement. I've also noticed that I get less crampy.
I also purchased Base Recovery Activator. I take two pills every day and then an additional four pills after a hard workout to aid in recovery. I definitely find that to be very helpful.  I've had so much pain in my legs and the Base Recovery Activator definitely works in alleviating some of the pain.  (You'll still get some pain but it's not as bad.)
The one thing I've noticed when mixing the Hydro is it gets a little clumpy in my 24 ounce water bottle.  After learning that you need to put in one scoop then a little water then shake, then do that again before adding in the Amino acid and the salt, helped immensely.
The taste is pretty good. I'm finding though that I'm going through two bottles in an hour's workout instead of one, which leads me to think that I may need to have more water bottles on my bike to get through an Olympic race, let alone anything longer.
Would I recommend Base Performance products, I definitely would and I'm not saying that because I'm a brand ambassador, because if I didn't believe it, I wouldn't even write about it.
I'm definitely a believer.  Here's a link if you want to see for yourself and if you send me a private message, I will provide you with a discount code to get 10% off your first round. If you are interested in placing an order, click here… 
Happy training with #BasePerformance!