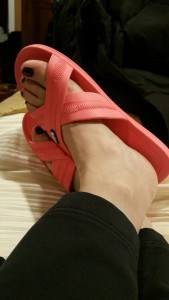 Bokos is a new recovery sandal that is sure to get the attention of runners, cyclists, swimmers and triathletes.
What I like about Bokos is it's great for the pool, especially with the no slip insert on the insole. They are also water proof, so they are perfect for any activity.  The rubber patterned insole also has a massage like effect when you wear them.
Bokos fits is true to size. They are easy to clean and have an anti-odor element to them. In addition, the Bokos design is durable and easy to clean.  You can literally take them anywhere, including using them during transition in a Triathlon!
I also love the Bokos story. It was founded by two brothers in Minneapolis. After spending time overseas, they found themselves wearing products similar to Bokos and wore them everywhere. Hence, that's how Bokos was founded!
They come in almost every color imaginable including lime green and purple. Bokos are for both men and women.
I have a pair of pink ones and absolutely love them. They are so light, I can't wait to use them this summer!
Best part is, Bokos will have a coupon with a hefty discount in the swag bags at the NY TRI EXPO on March 19 from 10 – 6 pm at Citi Field. (If you haven't registered yet, here's the link: http://www.nytriexpo.com/registration.)
Don't forget to get your swag bag and check them out on line at http://www.bokosusa.com/.  Use your discount after getting the coupon at the expo and get yourself a pair. You will love them!