I've reviewed a few different CEP products — short running socks and long running socks — and overall, I really enjoy these products. They are all compression based, very supportive and comfortable to wear.
Recently, I had the opportunity to test drive the CEP Run+ Compression Sleeves, which are medically-based and athlete-driven. They have a 20-30 mmHg graduated compression and are made in Germany.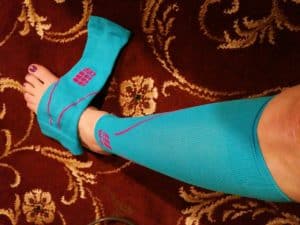 I was finally accepted into the NYC Marathon, after trying for six years, and I know that I'm going to need to start wearing compression sleeves, either during the run or for recovery.
But, what I really like about the sleeves, is you can wear them during a triathlon.  Many triathletes put them on under their wetsuit for the open water and then wear them throughout the entire event. The compression sleeves offer additional support and comfort.
I wore them when I first started running because I would get shin splints all the time. I found them helpful running with shin splints.
The CEP compression products come in nine different color combinations, all nicer than the next! I tested the aqua blue with shocking pink.  I found them to be very light weight and thin. (Some of these compression sleeves I've tested in the past are much thicker.) What I found interesting is the inside of the compression sleeve has frayed stitching which I thought would bother me, but I didn't feel it at all.
The sizing is interesting too. You need to measure your calf circumference at the widest point and then size it out according to the CEP size chart.
I really like the CEP products. They are comfortable and I love the colors! The cost of the sleeve is $40 on the CEP website.
Since I plan on running more, I'll be  buying some of the CEP socks from my favorite retailer, TriSports.