Product Review: itBandz for Knees
Lately, everyone I talk with has a problem with their knees. I've had my share of knee issues, tearing my meniscus skiing back in 2007. I was going downhill on an easy intermediate trail and slipped, twisted my knee and my leg never came out of the binder. After that, it was a series of surgeries and physical therapy. It was a year of hell!
A few years after I recovered, I went cycling with my husband and son in Central Park. When I was riding up hill on Harlem Hill, I heard it tear again! After that, I went for a series of "rooster" shots. The first one lasted about a year and the second one even longer.  Thankfully, I haven't had too much knee problems recently, even as I trained and ran the NYC Marathon.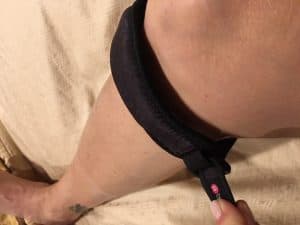 But when itBandz approached me to check out their product, I was interested. My husband has knee issues too so I gave him one in extra large to wear. ItBandz is a neoprene band that supports and stabilizes the knee.
Some of the product benefits include:
stays securely in place
easily adjustable
durable and you can hand wash after every use
enhances recovery of the knee and decreases pain
It's even endorsed by physical therapists! itBandz has a molded internal piece that mirrors "the natural structure of the knee to provide superior support and stability."
You wear it around the knee just below the kneecap and fasten the back with an adjustable velcro closure. The bump stays in the front of the knee with the arch up for added support.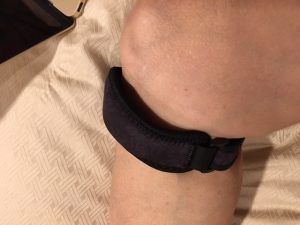 My husband tried it out several times at the gym. He said, "it's comfortable and breathable. It moves and provides support in just the right places."  He also liked wearing it when he played golf and looks forward to wearing it during skiing. He hopes that it will take the place of a larger brace that he was accustomed to wearing during skiing.
The itBandz can be purchased in different sizes and colors/patterns on the website, https://www.itbandz.com/. The price is between $14.99 – 19.99 depending on which one you purchase.
P.S. If you want to check it out, I have two samples in a large and small. Comment below and I'll send them to you!