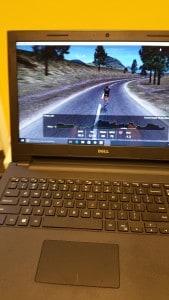 Could you imagine riding your bike through a dessert or riding along the water all in the convenience of your own home? Or could you imagine riding the Ironman or Half Ironman distance course before the actual event takes place?
Now you could by using the CompuTrainer, an electronic bicycle ergometer for maximum performance improvement, testing, and indoor training using your own bike!
The CompuTrainer is not like other trainers. It actually shows you, on your own PC computer (I had to buy one  because it's not compatible with an Apple) your wattage, your speed, your RPMs, and it can even measure the strength in each leg to see if you are gaining equal power.
You could even get a big screen and really feel like you're in a different place!
The trainer isn't hard to set up.  It comes with everything you need. However, I didn't love the fact that it had so many wires.  I put velcro around my bike so that the wires were neatly placed, however, once I take it off, I'm not sure if I'm going to put back on until next season!
The CompuTrainer comes with a ton of 3D courses that you could ride.  You can also download courses online from the Racermate website. I downloaded a bunch including a 25 miler, 50 miler and I even downloaded Kona, one could dream right?
Most of the 3D courses are hilly.  However, there is a 10 mile time trial that is totally flat and if you want to actually change the course from a dessert to a city scape, you can.  Some people who have a CompuTrainer, told me they only use the 10 mile TT.  However, I find that doing other courses, especially the hilly ones are important to try to improve.
I've definitely seen a significant improvement in my performance since I started riding with a CompuTrainer.
The thing that's interesting and different than a traditional trainer is you feel the resistance from the course.  Wind, hills, and flats are all factored in.
I love being able to see myself ride the course and it's been helping to get used to my bike, figure out my fluid and more!
I had problems with the calibration.  I will attest, the calibration when you get on the trainer and ride is pretty darn close to my Garmin 920 XT, if not exact!  But, I know the right thing to do is to make it perfect and I've been having a hard time getting it up to 25 miles an hour to calibrate. You basically ride for 10 minutes and then following that you have to get the bike up to 25 miles per hour three times and you can calibrate. I get close but no cigar here. So, I decided to forget about it.  I go by my smart watch and my power meter anyway.
Otherwise, I love the system! I don't mind riding in the house and I don't find myself getting bored with the workouts. I find them fun, interesting and I am definitely seeing improvements!  Before the CompuTrainer I was averaging 12 – 13 miles per hour and now I'm seeing 14 – 15 miles per hour so I'm a happy camper getting ready for the 2016 season.  Bring it on!