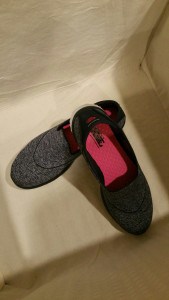 I don't know about you but I've been hurting lately. My legs, my feet, my toes, everything seems to hurt. I've been training hard for some tough upcoming triathlons and all I want to do is complain!  However, after getting the Skechers Go Flex Walk shoes, I'm a happy camper!
The Skechers Go Flex Walk Shoes are extremely flexible. I could bend them and they can roll into a small ball! And, they are soft, really soft. I've never had such comfortable shoes, except for slippers.
These shoes are specifically for recovery for runners and triathletes. I think swimmers and cyclists will also love them as well. However, they are also perfect for just about anyone! They are fashionable, comfortable and your foot can easily slip in them, especially with the Quick Fit circle that appears on the back of the shoes.
I wore them all weekend and my legs, my feet and my toes were happy! I have them in denim with a bright hot pink insert. They also come in black, gray or hot pink. They look great with jeans or just a pair of blue shorts. You don't need sox with them, although, your feet do sweat in them.
Here are some of the specs that I found on their website:
GO FLEX™ articulated segmented sole design provides anatomically correct ultra flexibility
Resalyte® sole – proprietary lightweight injection-molded compound with memory retention helps absorb impact
Goga Mat® technology
Features high-rebound cushioning with responsive feedback
Combines a proprietary 'SQUISH' component with our exclusive Resalyte® material
Memory Form™ Fit design with memory foam padding around heel for a custom-feel fit
Flexible rubber sole provides durability and stability
Weight: Radically lightweight 5 1/2 oz. in a women's size 6
Construction:
Soft nearly seamless knitted heathered fabric upper
Side S logo
Synthetic heel panel with Quick-Fit Portal
So, what do I think?  I think these are going to be my "go to" shoes when I finish a hard training or a race. I love the look, the construction of them and the way they make me feel. What more can you ask in a recovery shoe? You can buy it online or in a retail store. The price is $70.