Sneaker Review: Salming EnRoute
There are so many brands of sneakers on the marketplace. It's easy to get lost in a sea of Nike, New Balance, Asics, etc. sneakers!  Recently, I had the opportunity to sample a new pair, from Sweden, called Salming. When the company was first formed, it geared its shoes toward the squash and badminton markets. However, in recent years, they started making their mark in the running world. And, to be honest, I'm truly glad they did!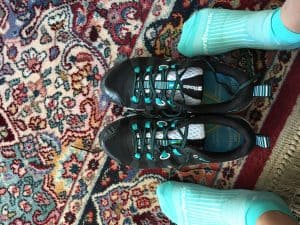 I was introduced to the company at The Running Event (TRE) in Orlando this past fall. One of the sales people showed me various types of running shoes from the barefoot models, which I find the most comfortable to the more stable neutral ones.
For the purposes of this review, I will only be talking about the Salming EnRoute, which is a neutral stable shoe for runners and triathletes. Interestingly, famous Ironman triathlete, Mark Allen only wears Salming shoes, according to the salesperson, which I found quite impressive.
What I liked:
I loved the roomy toe bed.
I also liked that the shoe has a little pull up in the back making it easy to take on and pull off the shoes — perfect for a triathlon!
The rim around the ankle is very soft too — lots of cushion!
It's breathable. There are tiny little vents throughout the shoe.
It's black with teal green accents. My favorite color! (Although if you check out their website, the colors are all really hot!)
They are extremely light. I was wearing my Asics Kayano 22 and put these on and there is a significant difference.
What I don't like:
They run small so make sure to size at least a half size up. (I wear a 7.5 in shoes and an 8 in sneakers. I wear an 8.5 in Salmings.)
The tongue is an interesting shape and I kind of wish it was a little smaller.
All in all, this is one of my favorite sneakers to date.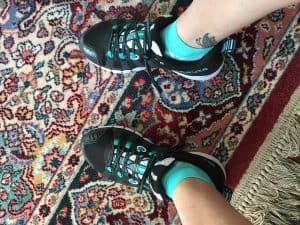 On this pair, it has a Swedish Flag on the tongue.
I like that it has aerations on the black on black stripes by the toe box on the top of the shoe. This enables your feet to breath in any weather. It also has cushion that snugs your feet around the ankle.
The heel uses sturdy foam that helps you bounce with each step.
I took these for a test run in St. Maarten. The roads were tough there – lots of broken roads, gravel, potholes and rocks. It was hard to get a rhythm going. I ended up running slow as to not get hurt but when I put the Asics Kayano 22 to the test, I felt that they were much heavier and didn't handle as well as the Salming enRoute. These were light, quick responding shoes that seem perfect for any type of terrain.
If you know me, you know that I draw toward sneakers with turquoise accents and that's exactly what these black beauties have!
I love the look, feel and responsiveness of these shoes and look forward to my next run!