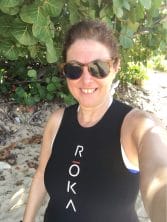 Hi, I'm Hilary JM Topper, but you can call me Hilary.
When I was younger, I practically failed gym.  I hated exercise and I especially didn't want to run track.  I was one of those kids who always got picked last on the team.  This discouraged me from any athletic activities for years following High School.
Growing up, I was always thin.  My mother used to tell me that one day my weight would catch up to me.  I could eat anything and not gain an ounce. I was 98 pounds when I graduated High School. In college, I gained the freshman 15 and stayed there for years until I got pregnant in my 30's.  After that, I struggled with gaining and losing weight.
In my late 40's, I decided to start running.  I don't remember why I started. I used to have dreams about running, but I never tried it. Now, I'm a triathlete.
When I was 47, I geared up for my first half marathon, the Disney Half Marathon in Florida. I trained for months kept getting injured, but I made it to Orlando. Once we got there, it was an experience from hell! The hotel wasn't ready for so I couldn't get into my room until late. Then I got sick. I ended up not running the race the next day and I was very disappointed.
A few months after that, I ran the NYC Half Marathon with my husband, Brian. It was an amazing experience!  I will never forget running through the streets of Times Square with the neon lights and feeling like the world was in my hands.
After that, I ran the Diva Half Marathon in Myrtle Beach, SC, the Disney 10-Mile Tower of Terror Race, the NYC Half Marathon (this time alone) and the Brooklyn Half Marathon.
After the Brooklyn Half, I decided to try out a triathlon and signed up for the Captiva Tri in Western Florida.  I had the most incredible experience and finished strong. Two weeks after that, I did the Montauk Sprint.
Since then, I have participated in nearly a dozen triathlons.
In addition to running and triathlons, I love to blog! This blog has received numerous recognitions nationally and internationally. It was named top 10 triathlon blogs in the country and top 75 triathlon blogs in the world. I am proud to say that we have reached a milestone with 50,000 unique visitors a month
My other blog, HilaryTopper.com has more than 88,000 unique visitors a month. In addition, I have a radio podcast, Hilary Topper On Air, where I interview people who have done amazing things in business and triathlons.
I could spend my entire day blogging but blogging doesn't pay, so my day job is being the CEO of HJMT Public Relations Inc., an award winning Long Island and New York City-based public relations agency.  I started this firm in 1992 when my daughter was born. Today we have an office in New York City and Long Island. We represent regional and national clients and help them get others to know their business by offering publicity, social media marketing, content marketing and everything in between. I'm passionate about what we do for our clients and I know my staff is too.
Because of my love for triathlon, I rented out Citi Field and hosted the NY TRI EXPO '16 on March 19, 2016. The expo was a huge success. We had 2,000 athletes attend, 20+ learning events and nearly 70 exhibitors.
After that, I started a virtual international triathlon team. We provide education, learning and lots of sponsor discounts to our members. In addition to that, after training extensively with Jeff Galloway, I started a running/walking group, WeREndurance.
At the end of 2019, I decided that I wanted to learn more about triathlons and coaching and took a 2-day intensive course in Florida with USA Triathlon. After taking a course on SafeSport, a CPR course, and passing an extensive exam, I am proud to say that I am a certified triathlon coach!
I look forward to sharing my running, swimming and cycling experiences and my opinions about products and services with you. If there's something that you would like me to address, please let me know. I love the feedback! Let's build a community together and share experiences. We accept guest blogs and I have already run a few posts of amazing runners who have inspired me and I know you will be enlightened as well.
Thanks for reading!
— Hilary
Don't miss another blog post, sign up via email today. Plus, we have some cool things in store for our email!