Do you need a gait analysis?
This past training for the NYC Marathon has totally beaten me up! I don't know if my feet will ever be the same! Between Archilles problems, blisters that cover my feet, black and blue toe nails and toes that have fallen off, I feel like a mess!
So, after the advice of a couple of Facebook friends, I decided to get a gait analysis at Road Runners Sports in Berkeley.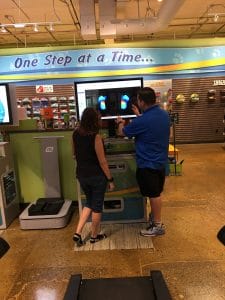 Tyler, the store manager, brought me to the back and asked me a bunch of questions about my running. He then asked me to step on a matt. I did and he found a bunch of hot spots on the bottom of my feet. He also noted that I have high arches and might need support.
After that, he measured my feet to make sure of the right size. He then had me try on a pair of Nike sneakers and run in them. (I wasn't quite sure why he had me do that. I thought it would have been a more accurate reading if I had ran in the sneakers I run in but I didn't question him.)
I went on the treadmill and he asked me to run. I ran at an easy 4.7 mph pace. He thought I ran pretty straight but that on my right foot I leaned in a little. Tyler said between the inserts and a pair of good socks that keep your feet in place, I shouldn't get any more blisters.
He plugged a couple of numbers into the computer and had me stand on a very cushiony tool.
Then he asked me to step down into the insoles. I did and stood there for a couple of minutes. He told me to lift my leg, he took off the insoles and let them cool down and dry. Within minutes they were ready to be inserted into my shoes.
Once they were inside, they felt a little more comfortable. He rechecked my feet to make sure they were in the right place and that I had enough room in the toe.
Right now the jury is out. I'm not sure if I think they work, but I may circle back in a couple of weeks and will definitely let you know.
The inserts were $80; new socks – $35; new Nike sneakers for recovery – $120; VIP package from Road Runners Sports – $20.