Coming back from Japan was rough. There was a 13-hour time difference, so when it's 8 pm in New York, it's 7 am in Tokyo. That makes everything very disorienting. So I knew coming into this race that the day after I returned home would be difficult.
Getting up wasn't bad. I awoke at 6 am and had to be in Bay Shore, Long Island, at 7:30 am to pick up my number and meet my running group.
Racing for Dawn: A Story of Strength and Courage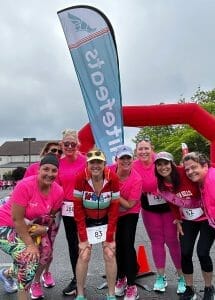 The main reason I wanted to participate in this race was to support Dawn, a member of our running group since 2017. At that time, she was undergoing radiation for breast cancer. Despite the challenges she faced, Dawn was incredible and was out there every week trying her best.
Her strength and determination inspired our entire group, and we wanted to show our love and support by running this race together. I knew that no matter how tough the jet lag might be, it paled in comparison to the battle Dawn had fought and won.
The Race Day Experience
As we gathered at the starting line, the energy among our group was electric. We knew we were running for something bigger than ourselves, and that gave us the motivation we needed to push through the fatigue.
The race itself was pleasant. We ran through beautiful Bay Shore waterfront properties. Dawn brought out another friend Beth who also struggled with breast cancer. The thought of supporting Dawn and Beth kept us going.
Every step we took brought us closer to the finish line and symbolized our solidarity with their journeys.
I ran with Janeth and Linda. We really enjoyed our 30/30 run/walk ratio. About a half mile to the finish line, there was a slew of walkers. I said, "Let's pick it up." But no one seemed to hear me, except me. So, I started to run faster and crossed the finish line on my own.
The Lasting Impact of the Race
This race taught us the importance of community and the power of supporting one another. Dawn's story is a testament to the strength of the human spirit, and her resilience inspired us all to be better, stronger runners.
Happily, Laura G., another member of our group and another inspiring woman, won 1st place in her age group! A big kudos goes to Laura!
After this race, I found out that another runner in the group is battling breast cancer as well. This sparked me to send out a note to the group, hoping that they support her as we supported Dawn.
As we continue our running journeys, we will always remember this race and the lessons we learned from Dawn. Together, we are stronger, and together, we can overcome any challenge that comes our way.
If you're interested in joining our WeREndurance Run/Walk group, please reach out to me. We love new members!