At The Running Event, I had the pleasure of meeting with Ultimate Direction and exploring their exciting range of products! They showcased an impressive collection of hydration vests and running belts, specially designed for dedicated runners and triathletes.
Trail Vest
One standout item was the stylish Trail Vest, shown to me in a sleek onyx color. This vest, also available in vibrant blue and verdant (gray), is priced at $99.95 and made entirely of polyester.
The Trail Vest's ample storage is definitely a selling point, but it's worth noting that it requires a different type of water bottle to fit its pockets. Traditional Camelbak Podium bottles won't work, but have no fear – the HydraPak Skyflask350 ml is an ideal alternative, offering enhanced versatility and shrinking as you drink.
The vest comes in two sizes. When I put it on, it hits the middle of my chest, which could be annoying during a run or a ride. But I think as long as it stays in place, it will be good.
It also comes with a 1.5-liter reservoir. The back pocket has a secure area to put in anything you may need for the ride or run. It can hold up to a two-liter reservoir.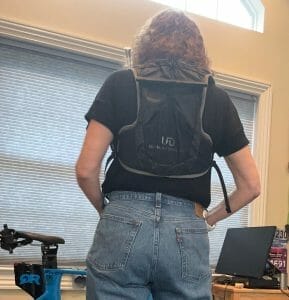 The Trail Vest has plenty of room to store your phone, keys, or anything else you need to travel with. It can even store an extra pair of glasses.
The Trail Vest retails for $99.95
Utility Belt Plus Running Belt
This cool little gadget comes with a magnetic front buckle for hassle-free removal and boasts two anti-slip pockets to hold your Body Bottle 500 securely.
Not only does it carry your water bottles, but you can also tuck your phone, keys, and other tiny treasures in there. The best part? It's available in FIVE sizes, so it's literally got you covered! It has two non-slip areas to put in Body Bottle 500.
The price of this belt is $49.95.
Weather gets warmer
As the weather starts to get warmer and we run further in training for either a half, full or ultra distance, these hydration packs are perfect! They are relatively priced, durable, and extremely comfortable.