When my cousin, my friend, and I walked around the Rock 'n Roll Marathon Expo in Las Vegas, we stumbled upon Wonder Pax, a company that aggressively pulled us into the booth. They immediately wrapped my cousin's knee in a heat pack and she was impressed.
I had no interest in the product but a young woman who worked for the company insisted that I buy it with my cousin to get a small discount. "If you both buy the product, it will only be $129.95," she told us.
Every time I turned away, she was in my face insisting that I also buy the Wonder Pax. "You will need it before and after the race," she insisted.
I ended up buying it and what a mistake!
How the Wonder Pax Works: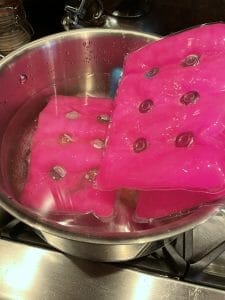 The young woman told us that the WonderPax required no hot water, no electricity, and no microwave to activate. "Simply flex the metal disc," she showed us and the WonderPax instantly warmed to a preset temperature of up to 130*F/54*C that she said lasted for three hours. The website differs and says it lasts up to 90 minutes.
Don't be fooled like we were. We ended up buying two sets of packs. I went back to the hotel and activated it. At first, it felt good but the warmth only lasted about 10 – 15 minutes. After that, the pack became rock solid. I couldn't bend it, I couldn't even barely fit it in my suitcase, it took up so much room.
The woman told us that the packs when they get cool go back to their original position. That did not happen. I later learned that you need to boil them in water to get them to the natural position.
What did I think?
I thought this Wonder Pax was a waste of money! It was expensive. It lasted for a few minutes before just turning rock hard and then it was time to put it in boiling water.
There was a product, IceWorks, that I purchased many years ago. This was a fantastic product. It was expensive as well but I still have the packs and I still use them. They last for hours. This product did not!
I would not recommend buying this! Save your money and get yourself a good heating pad that will last!