I'm always in the market for a new protein bar that is natural and tastes good. So, when the staff at LivBar reached out to see if I would be interested in testing their product, I said, "sure thing."
The LivBar is an interesting product. It's not a protein bar because it actually has very little protein, only six percent. However, it is all organic and the whole bar is made from seeds and other natural flavors, making it a great alternative for a snack.
About the LivBar
The founder, Jan, was overweight in her 20s and wanted to make a change. She later became a nutritionist and couldn't find anything that she would recommend to her clients. She and her husband, Gabe founded LivBar. Gabe had multiple food allergies and Jen also wanted to make him an on-the-go snack that tasted good and was made with real food.
The LivBar is all-natural and it's homemade. Each LivBar is wrapped in a sustainable package.
The couple source the highest quality Certified USDA Organic ingredients. All of the ingredients and bars are free from gluten, soy, dairy, corn, and peanuts.
What's in the bar?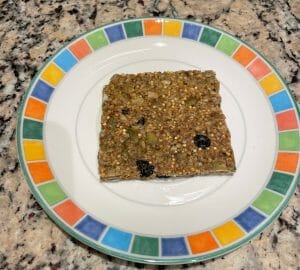 I was sent a sample pack and in it, included Lemongrass Cherry Match, Ginger Lemon Turmeric, Coffee Maple Cacao, Raspberry Maca, and Blueberry Vanilla.
Handmade in Oregon, the LivBar includes lots of seeds including organic pumpkin seeds, organic coconut nectar, organic sunflower seeds, organic coconut, organic millet, organic dates, organic hemp seeds, organic virgin coconut oil, organic flax meal, organic quinoa, organic coconut sugar, and then ingredients specific to each bar.
How do they taste?
They definitely are different than anything I've ever tasted. I think the only bar I could compare it to would be the RXBar, except the RXBar is more of a protein bar. This is not. This is more of a healthy snack.
In the video on the LivBar website, you see the owner crumbling up the bar and adding to yogurt. I can definitely see doing that.
I liked the Raspberry Maca the best out of the sample pack.
What I did love was that they were wholesome.
Where can you get one?
Go on their LivBar website and you can find retailers near you that carry the brand. The cost of a sample pack was $33 for 12 bars.