Runners and triathletes always need a reliable jacket that will protect them from the elements without weighing them down.
Enter the Arc'teryx Norvan Windshell Jacket in bright yellow. This super-light option is for when every ounce counts but the weather is changing.
What I like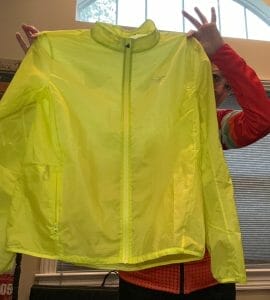 One of the best features of the Arc'teryx Norvan Windshell Jacket is its weight – it's incredibly lightweight and packable, making it easy to bring with you on the go. Despite this, it still offers excellent weather protection, with a drop-back hem for extra coverage to keep the wind and rain out.
But the functionality of this jacket is not its only selling point – the bright yellow color is sure to make you stand out on any trail or path. This bold shade adds a pop of color to any outfit and ensures that you're not only well-protected and seen but also fashionable.
About the Norvan Windshell
The shell is minimalist and breathable, and it's a great layer for running. It weighs 65 grams and is totally compact to be easily stowed away.
The Arc'teryx Norvan Windshell Jacket is perfect for any outdoor activity, whether you're running or biking.
Taking it on a Test Drive
I was gifted a size large. It easily slipped over my layers prior to a bike ride in the fog.  The neon yellow made me stand out in the fog and the thin layer gave me added protection from the elements. It's not a warm jacket. It's a shell to bring with you in the summer or early fall in case the weather turns.
I loved the flexibility of the jacket and see myself taking it on lots of biking and running adventures in preparation for my upcoming triathlons.
You can buy the Arc'Teryx Norvan Windshell Jacket (or any of their other cool stuff) on their website at https://arcteryx.com/us/en/. The price of the jacket is $130.