KTTape is a great company that has more products than you count. It was best known for the KTTape for injury recovery. I've been using KTTape for years when my Achilles flares up.
So, if you have a runner or triathlete that you want to buy a gift for this holiday season, check out the following as awesome gifts and/or stocking stuffers:
KT Recovery + WAVE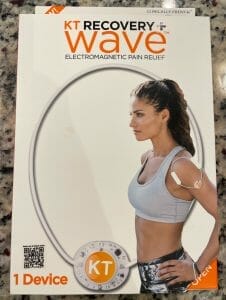 This is drug-free pain relief. It uses electromagnetic therapy and is used as a portable FDA-cleared device. The WAVE is portable and helps modulate nerve activity to provide pain relief. It also can be used for arthritis or muscle soreness.
You wear the device for a minimum of 12 hours per day for 2 to 3 consecutive days.
It can be used on the back, knee, feet (plantar fasciitis), or any other body part that is experiencing chronic pain.
Price: $34.99
KT Recovery + Ice/Heat Massage Ball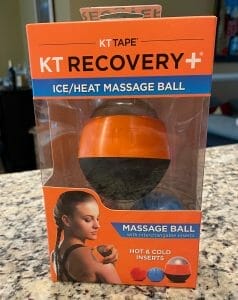 This massage roller has interchangeable ice or heat therapy for advanced recovery. The heat warms up the muscles and loosens them. The cold relieves pain and inflammation. You roll this over the part of your body in pain and it can be taken with you wherever you go. It is TSA compliant. Further, the ergonomic handles make it easy to use.
Price: $39.99
KT Recovery + Ice/Heat Wrap System
This is a great wrap because it can go anywhere – your shoulder, knee, ankle, lower back, etc. It also has heat and ice packs included which are both reusable. The heat pack can go in the microwave and warms up the muscles whereas the cold pack goes in the freezer and stays cold longer to relieve pain and inflammation. There is an adjustable wrap that keeps the ice or heat pack in place. It also comes with a cool carrying case.
Price: $49.99
KT Recovery + Pain Relief Gel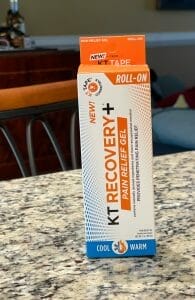 This gel, which is in a roll-on tube, provides pain relief with a powerful blend of cool and warm sensations. It's non-toxic, the paraben-free formula dries clean, and has a scent that vanishes within moments.
Price: $15.99
KT Performance + Blister Prevention Tape
How many times have you gone out for a run and the back of your ankle is all blistered? Well, KTTape developed a new tape that is designed to help prevent blister, chafing and hot spot formations. It's durable, flexible, and breathable and the best part, it easily conforms to your skin.
Price: $9.99
KTTape Kinesiology Therapeutic Tape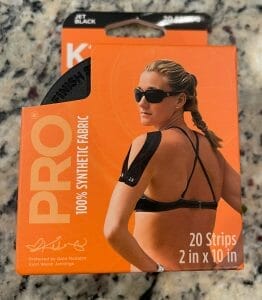 I don't really understand how it works, but it works! Go online to see how to put it on properly and use it for any injury you may be suffering. As I stated earlier, I use it all the time for my Achilles Tendonitis. It works so well. What it does is it helps keep the blood flow going around the area. It also comes in a variety of colors.
Price: $19.99
Where Can I Pick it Up?
Go to the KTTape website at https://www.kttape.com/ to pick up your products. They sell these individually or in a package.