Hoka One One Clifton 4 Review
I must admit when Hoka One One came out with the original Clifton's, I didn't like them. I felt they were too soft and I was bouncing on mattresses. BUT, recently, I had the opportunity to try out the Hoka Clifton 4's and LOVE THEM!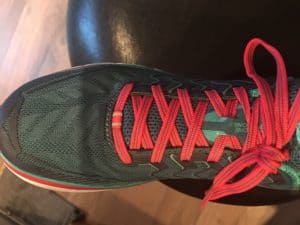 The Clifton 4's are neutral stability shoes and perfect for long distance running. I ran with them on a track, in the street and on the sidewalk and I felt they were comfortable, stable and fast. They are also super light. They look like they would be heavy but they aren't. They only weigh 7.5 oz and have a 5mm heal to toe drop.
I love the bounce. They feel great on my feet and great when I'm running!
I also like that they come in six different colors. I have the teal blue ones (my favorite color). The other difference, they don't look particularly large like some of the earlier models of the shoe.
The Clifton 4's has an insert but I typically use my own orthotic inserts that I got from Road Runner Sports because I find them to be extremely comfortable. So as soon as I get a new pair of sneakers, I swap out the inserts. I also found that the Clifton 4's didn't need as much "breaking in" as some of the other sneakers I reviewed in the past.
Let's talk about the feel — the toe box is large and roomy for your toes. To me, that's important, even though I don't have large feet. I just don't like the feel of the toes being close. I like having that extra room. I also found that the heal is snug, which is great. There are some sneakers that feel as though you're coming out of them. These fit snug and secure.
The other feature I like are the shoe laces. They almost remind me of an elastic type shoelace because they are stretchy. I may consider putting in tie less shoe laces but these don't bother me.
I love the look and feel of these new Hoka Clifton 4's. I'm excited to wear them when training long and if I have any other opinions about them, I'll post them in the comments section below.
Let me know what you think of the Hoka's…