As you can imagine, I have a lot of cycling jerseys. I had so many that recently I donated a dozen of them to a local thrift shop that benefits Big Brother/Big Sisters.
But, I was targeted on Instagram with these hot new cycling jerseys from Ostroy NY. I couldn't believe the styles and patterns of these cycling jerseys. They were the nicest I had seen.
Hence, I bought three and they weren't cheap. But, by wearing them, they made me happy, and making me happy made me a better cyclist.
About Ostroy
Ostroy, a Brooklyn-based cycling label, is known for its unique blend of style and high-performance cycling gear, made in Italy. With an array of products that cater to both men and women, Ostroy has positioned itself as a go-to brand for cycling enthusiasts seeking quality and design.
I recently had the opportunity to visit their warehouse in downtown Brooklyn. They were such gracious hosts and allowed me to try on a ton of different style jerseys and cycling bibs.
Having a hard choice, I narrowed it down to three more purchases. One of the owners offered me the cycling bib as a gift. I was shocked. That was so incredibly nice!
Here are two items I ended up purchasing (third one is above):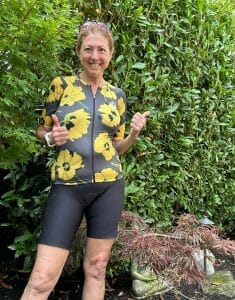 What I thought
One standout product from Ostroy is the Classic Cycling "Jersey" Resort Shirt, priced at $98.00 USD. This jersey combines the practicality of a cycling jersey with the relaxed style of a resort shirt, making it a versatile addition to any cyclist's wardrobe.
Another notable product is the NYC Monuments Lightweight Long-Sleeve Jersey. Priced at $130.00 USD, this jersey is designed to pay homage to the iconic landmarks that make up NYC's cycling landscape. The jersey features a race/aero cut designed to contour your body, made with high-quality luxury Italian fabrics.
Ostroy's products are available directly from their website at Ostroy.com.