TYR known for bathing suits, wetsuits, transition bags, and swim products is now in the market targeting runners with their new running sneakers. I had the opportunity to check out both the TYR Techknit RNR-1 Runner and the TYR SR-1 Tempo Runner.
Introduced in July 2023, both sneakers are well-crafted and have exceptional bounce. They are competitive with all of the current sneaker brands on the market today. Here is information on both: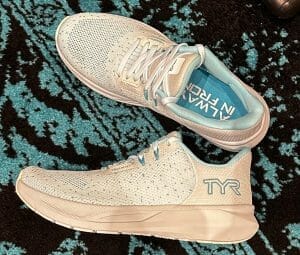 As soon as you slip on a pair of the Techknit RNR-1 Runners, you notice the cushion throughout the shoe. The liner can be removed and you can feel the softness of the sole. The shoe is designed to complement a runner's natural movement. These are great steady running shoes for longer runs or for marathon training.
They weigh 8.1 oz and have a 4mm drop from heel to toe. They have a breathable upper-engineered mesh construction and are extremely lightweight and responsive.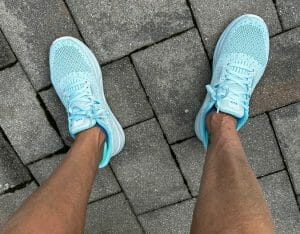 They come in six different colors including bright colors like pink and red. I chose the seafoam green. It's nice and subtle.
I would compare these to a cushiony type running shoe like a HOKA. They have that foam cushioning that feels really good on the bottom of your foot and helps you bounce.
My only complaint is that I got a size 8, which is normal for me but I would have preferred an 8.5 instead. So I suggest if you buy a pair, make sure to go up a half size.
Otherwise, they are a great shoe and awesome for running. The price is $160 and they are available on the Tyr.com website.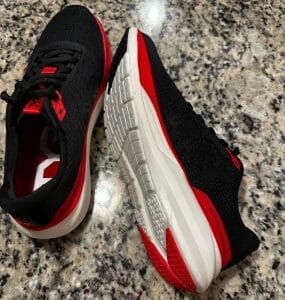 These shoes have less cushion than the Techknit RNR-1 Runner. But they are responsive and fast! They are super comfortable and also have a 4mm heel-t0-toe drop.
The TYR SR-1 Tempo Runner weighs only 7.6 oz and has a wrap-around side gripper extending around the heel for added stability. They are durable and super lightweight. The flexiblity on the forefoot enhances your natural stride and the stability in the heel is for control and ground contact.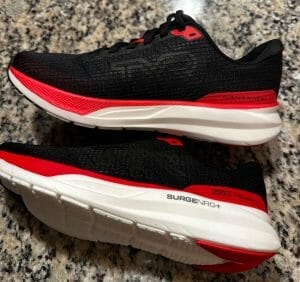 They come in four different colors. I chose the black with red trim. The price is $150 on the website.
When I ran, they were responsive and quick. I really enjoyed the ride in both shoes and wearing these SR-1 Tempo Runners I use them for faster workouts and time trials.
Personally, I think having both pair should be a complement to any runner.
Happy running!