If you could live your life in one day, would you do it?
I have answered yes to that question 17 times at 16 different venues. I have experience, I know what works for me and I have to use it. It is always my experience at an Ironman race that despite all the prior preparation and focus on staying in the moment on race day there will be plenty of ups and downs, things can change fast and adjustments have to be made. Finishing also involves a nutrition and hydration plan and implementing it.  I may have to deal with training and work issues, injuries, and changing expectations but just making it across the finish line never gets old for me.
"You Don't Have to Do an Ironman to Be a Triathlete"
My former coach, Steve Tarpinian always said: "You don't have to do an Ironman to be a triathlete." It took me 10 years of racing shorter distance triathlons to commit to doing an Ironman distance race. When I left NYC for LI employment and my children were older, I decided to use my former commuting time to train. I know a lot of people who do one iron distance race and say never again but the commitment, persistence, and determination to get to the finish line every time are qualities I would like to keep renewing.
Ironman Alaska Announcement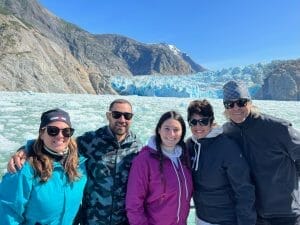 On August 9, 2021, I received an email from Ironman announcing their new race: Ironman Alaska Juneau August 7, 2022, rugged, wild, untouched, an epic adventure. I always wanted to visit Alaska, so it did not take me long to commit and register. Things I anticipated: It would most likely be cold, and wet, involve complicated travel and lodging plans, and bring most of my family. All became true.
I swim year-round with Total Masters and started my race training in January with GLIRC-run events and Wahoo rides. I also had IM 70.3 Oceanside in April and Gulf Coast in May on my race schedule. Both gave me an idea of my current fitness. The training was progressing until July when I managed to hurt my back picking up a potted plant and pull my hamstring doing a mile sprint run. Showing up on race day without injuries is key so I was hoping for a quick recovery but both injuries lingered forcing me to reduce my run training significantly.
Going to Alaska
I was fortunate to be able to secure a home rental with the use of vehicles. I arrived in Juneau on August 4. The sunny 60F weather of the prior week was gone and it was 55F and raining. Same Friday and Saturday as the water temperature also continued to fall. At least registration, IM Village, and race briefing were indoors.
The Athlete's Guide and race briefing included guidance on encountering a bear. I was able to drive the bike course to get a feel for the terrain. Absolutely Ironman rolling. Nothing too steep but constant up and down with 3 groups of climbs and descents. One over every 10 miles of the bike loop with a rough road and the longest and steepest climb for the last 10 miles out and back on each loop. I did not see any bears. My bike arrived via TriBike Transport. Many people were having issues with other shipping methods and airline delivery.  It is always fun checking in the bike and transition bags while getting soaking wet. NOT.
Race Day
4:30 am race day. Overcast but not yet raining. My sherpas were ready to get me to transition and the swim start. They did a great job all day and night. Air temperature low 50sF. Water temperature 56F. Mike Reilly announces that the swim will now be 1.2 miles to avoid possible hypothermia, will start at 6:30 am and the total race time shortened to 15 hours and 50 minutes. I had extra nutrition and hydration with me which I consumed while waiting in the rainforest. I elected to wear my swim booties for the first time at a race. When I crossed the start mat and went into the water, I took 2 or 3 steps and dove in. I have been in colder water but it took your breath away cold. I used the wetsuit strippers but kept my booties on for the long jog to my bike transition bag. My expectation was to keep my transition times under 10 minutes. The change tent was heated and crowded and my feet were cold. I changed my expectation.  I also changed into completely dry bike clothes.
Bike Course
It started raining shortly after getting out of town and onto the Glacier Highway. It rained on and off for the entire ride. Based on the course and weather conditions my new expectation was to be safe, slow down, and finish the bike course within the time limit. I did. I looked like I was in a mud fight when I arrived at transition. Again, my transition went longer than expected and I changed into all dry run clothes.
Run Course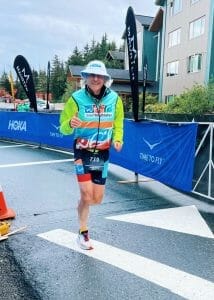 The run course was also 2 loops and rolling. We went through a part of the rainforest for 2 miles on each loop. I didn't see any bears. I was doing a serious power walk and IM shuffle and checking my time. I thought I had been consistent with my nutrition and hydration but at 14 miles I felt a bonk was eminent and needed to reload some additional calories and liquid. I like the Maurten gel with caffeine and it worked. I was able to hold off going to the Red Bull until mile 20 when my daughter, who had been chasing and cheering me all day on the run course by car, implored me to "pick it up." I said 10k in an hour and a half, no problem. I was in the land of the midnight sun but we had cloud cover all day and darkness fell around 9 pm. My last trip through the rainforest required a headlamp. Mile 25 to 26 was uphill but when I reached the top I did get a nice jog going to the finish. It was a long, cold, and wet day but I was very happy to hit the finish carpet timely with no regrets.
Age Group Win?
I had made a connection in Juneau with a brother of a friend of mine and wanted to get together with him post-race. He advised me that he was working at the awards breakfast. I said I would see him there. I brought my support crew with me and much to my surprise the long war of attrition had taken its toll on my age group, landing me on the 5 deep age group podium. My longest day on the course ever and my highest age group finish. Surprise!
Due to the limited suffering on the run, I was mobile for celebration and sightseeing. We explored Juneau, cruised to Tracy Arm Fjord, and drove and hiked to the Mendenhall Glacier. The locals don't use umbrellas. Plenty of halibut and salmon. The scenery is spectacular. Changes to the natural environment are occurring.  Only 22 hours to get home door to door! Some pictures are attached.
Always finding new ways to dream! Stephen Albright
About Stephen Albright:
Stephen Albright is an attorney & in-house counsel has completed over 200 triathlons including 17 IM races, and various other endurance events & has danced with Long Island Ballet Theatre for over 20 years. You can reach him here: [email protected]