Back in 2017, I worked with InsideTracker and found that some of my biomarkers were off. So, I tried to correct them. Most recently, I returned to them to see how I was doing and if there was an area in which I should focus nearly five years later.
Coming to the house
A nurse came to the house and drew several vials of blood. She was on time and extremely professional. I was impressed that when she drew the blood, it didn't hurt at all. I could barely feel it.
She took about a half dozen vials of blood and told me that I would get my results within a week or so.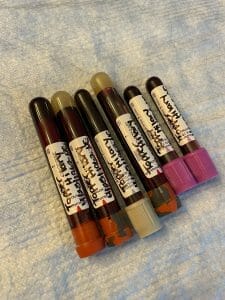 The results came in a week later and this is what they found.
1 – Everything that was an issue in 2017 was resolved. In 2017, my cortisol levels, Vitamin D, and B12 were low. Today, they are in a good category.
2 – Today, my lipid group is at risk. One of the recommendations was to take a Green Tea supplement daily. I'm taking it.
3. My LDLs were particularly low, meaning that my cholesterol is high. So I need to work on that.
4. My Testosterone levels were very low. The results told me to contact my doctor, which I did. Apparently, testosterone in women helps build muscle so this is an important one to correct considering the exercise I do on a daily basis. However, when I spoke with my doctor, he said that since I was taking prednisone during the testing, it was off!
The thing about InsideTracker.com is that you get a full detailed account on what to do and how to resolve these issues, especially if they are impacting training. 
I decided to call InsideTracker and get someone to talk with me about some of my results. I was particularly concerned about both my testosterone levels and my inner age, which they told me was 64. Shouldn't I be younger because I'm so active?
The RD told me that I should try to incorporate whole grains into my diet. 
I told her I'm trying to eat protein with every meal. Sometimes I can't get it in but I'm trying. She agreed that it was a good practice.
And what about Inner Age?
The RD thought that I had a higher inner age because at the time of the blood work, I was on prednisone and still had pneumonia. "That could have been the cause," she said.
It looked like the following areas were also of concern:
– My liver functions
– Magnesium was lower than should be, so Inside Tracker offered me this information: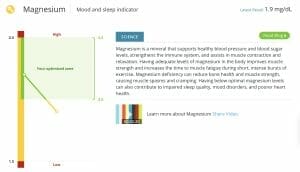 – Platelet was also low. InsideTracker said: "Mean platelet volume (MPV) is a measure of the average size of platelets in the blood and is directly associated with platelet count. Platelets are cells that play an important role in the immune response and in blood clotting. A high MPV level indicates a high platelet count and that the size of platelets are very large. It is associated with elevated inflammation levels and can result in an increased risk of blood clot formation."
When you take blood at the doctor's office, all you hear is: "Oh, everything is just fine." What you really want to hear is – how to improve.
InsideTracker gives you so much information on your biomarkers that you can take your health into your own hands and focus on what's important and how to be the best you can be, especially when it comes to performance.
If you are interested in getting your blood drawn and finding out what your biomarkers are, you can get 20% off by going to this link: InsideTracker.com/HILARY20
If you don't use the link, then make sure to use Hilary20 at checkout to get 20% off!