Inspired Endurance Jewelry Review
As many of you have completed a major event this year, whether you ran your first 5K or completed a full Ironman event, you may want to celebrate your accomplishments by buying yourself a sterling silver, 14K gold or a diamond pendant.
I know after my first half marathon, I purchased a 13.1 pendant and wore it all the time. After my first triathlon, I purchased a tri pendant and wore that a lot. So, when Inspired Endurance.com contacted me to review their products, I thought it could be a nice feature for this blog. They sent me the triathlon necklace as a sample.
To be totally honest, I didn't expect the quality to be up to par. I knew it would be nice but I didn't think it would be this nice! The chain, although thin has some nice weight to it and the actual pendant is thick, just as thick as a coin. (The ones I had bought previously were not this nice!) Both the chain and the piece are sterling silver. They make a great gift for someone who has accomplished greatness and they also make a great gift for yourself. (Remember the holidays are right around the corner!)
The necklace comes beautifully packaged in a handy bag with cleaning instructions and the inspirational quote, "She believed she could so she did," by R.S. Grey.
Inspired Endurance has pendants for every event including a 5K, 10K up to an ultra marathon. Here are the 13.1 and 26.2 versions in silver.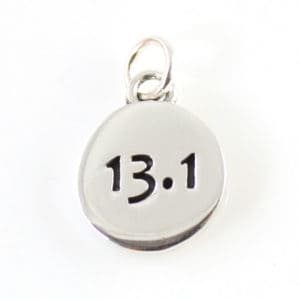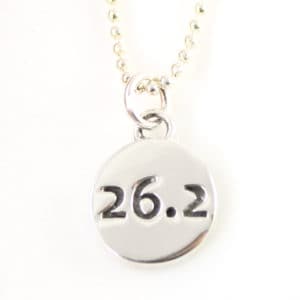 I love the way it sits on your neck. The 16″ chain is perfect for the average woman's neck, but they do come longer upon request. Prices range from $15 to hundreds for the 14K gold pieces. The one that was sent to me was $36 for the pendant and $20 for the chain.
I was given a 10% code for my readers. The code is PMPK17 and it expires on 12/31/17. Happy shopping!