Jeff Galloway: Your Personal Running Journal — Logging Your Progress, Keeping Your Motivation
When I first started running nearly seven years ago, I kept a journal. I had heard that it kept you accountable. However, I couldn't sustain it. I wrote in it for the first two or three weeks and then stopped. What can I tell you… I just stopped. And with me stopping, I stopped running. The only thing that would get me to run was to set a goal.
About two years ago or so, I set a goal to run 500 miles. The song, "I Would Walk 500 Miles," stuck in my head as I went out every couple of days to run. I completed my goal that year during the last week in December and was incredibly thrilled with my accomplishments. The only way I got through that 500 miles was to log down the miles every day in a journal. That kept me accountable and it kept me remembering those hard and not so hard runs.
Recently, I was sent Jeff Galloway: Your Personal Running Journal — Logging Your Progress, Keeping Your Motivation, from Meyer & Meyer Sport. I was thril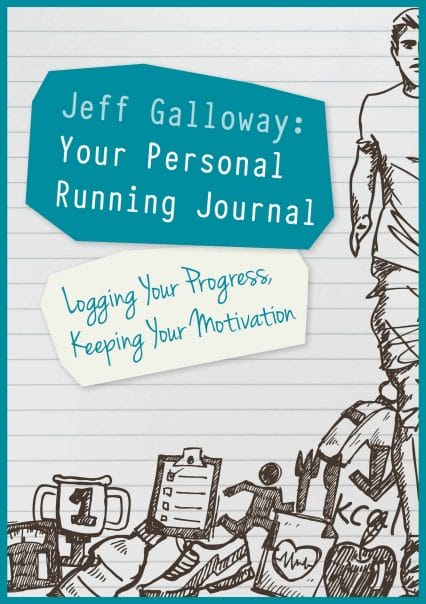 led. Now that I log my runs, swims, bike rides and strength training every day, I thought this would be another tool to keep me accountable and on track.
It's a beautiful book that is well organized and thought out. What I love about this journal is it gives you a run down of Jeff Galloway's program. Jeff talks to you in his voice and explains how you can use his program and stay injury free. He says another goal is to keep you "running until you're 100!"
He talks about the Magic Mile (MM), a mile after warm up around a track. That number is your pace. Once you set that, add at least 2 minutes to that number to get your long race pace. If it's hot, add 30 seconds per mile for every 5F degrees above 60F. It also explains how long runs should be set and an additional 2 minutes added to the Magic Mile number.
He says to take walk breaks before you get tired. "Remember, when taking walk breaks, take short and gentle walking strides," he writes. He also mentions that he's been running for 50 years and "enjoys running more than ever because of the walk breaks."
The journal also teaches runners to record and analyze each run.
At the end of the book, after you log in all of your data, he has a troubleshooting section where he talks about various injuries and how to take care of them, cross training schedules and actual 5K, 10K, half marathon, and marathon schedules.
It's a helpful book to have and the cost is $16.95 available either through Jeff Galloway's website or through Meyer & Meyer Sports.