This fall, we've got some new products in this roundup that I think you will find interesting. You can even win a free book by commenting below!
Sweat Wipes
Now, let me tell you, the company sent me a couple of samples and I have been using them all the time! I use them for golf, running, cycling, and even when I come out of the open water and my face is full of salt! It works great. the wipes are rather large, not like the "typical baby" wipe. They are also thick and are more like a washcloth than a wipe. They clean sweat, dirt and deodorizes. (I've used this stuff under my arms and it actually smells great!)
Sweat Wipes are made with Aloe Vera and Vitamin E. They are made by MedZone and you can pick them up at GoSweatzone.com.
Healing Trauma with Yoga by Beth Shaw
Beth Shaw has written four books and this book, Healing Trauma with Yoga — Go from Surviving to Thriving with Mind-Body Techniques, focuses on healing trauma through yoga and meditation. Between 9/11, Sandy, and now the COVID-19 pandemic, there is no one who hasn't been touched by trauma. Author Beth Shaw provides self-care techniques through yoga, meditation, breathing exercises, and Ayurveda. In this book, readers will be able to build their own program, explore trauma and it's effects on the neurological pathways, create healthier habits, bolster resilience, and dealing with day to day stress.
Comment below this post and you can win a free Healing Trauma with Yoga book!
Mezcla Bars
Mezcla is a new protein bar celebrating the world's diversity through food and art. They are currently producing three different bars. When they sent me the three samples, I didn't know if I would like them. They all have 10g of plant protein. The flavors are Japanese Matcha Vanilla, Peruvian Peanut Butter, and Mexican Chipoltle Hot Chocolate. Each bar is sourced from the country of origin and is 170 calories each.
Many companies give back but this company is doing something different. They celebrate food and art. Interestingly, if you scan the bar code on the front of the package, you will see local artists from different places around the world. When I scanned the Mexican Chopolte Hot Chocolate bar, I saw a beautiful sculpture from a featured artist named Ashley Chew. She focuses on women of color and the sculpture was an image of an African American woman. It's cool that anyone can have their artwork featured on the Mezcla website! The company also gives a percentage of the proceeds to buy art supplies to children in under-served communities and funding art projects throughout the US.
You can pick the bars up at https://eatmezcla.com/.
Compress Socx by Hocsocx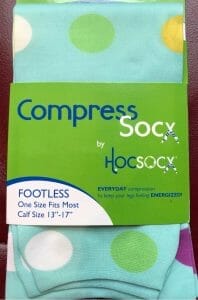 There's a new compression sock company called Compress Socx by Hocsocx. They make everyday compression to keep your "legs feeling energized. The socks are footless and fit most.
Calf size is approximately 13 to 17 inches. What I like is that these socks are super soft and that they are compression socks. They are made of polyester and spandex. I don't love that they aren't sized and that they are toeless. I didn't find them particularly comfortable, although they have some great, fun styles on the website.
They are priced at $22 each. You can pick them up here: https://www.hocsocx.com/.
I also have a pair of these for a giveaway. Make sure to comment and you can win!
Comment below on why you would like a free Yoga book or a pair of compression socks and you can win!