Steelman Racing in Pennsylvania offers a series of open-water swims throughout the summer, and this year I had the pleasure of participating in the final race of the season. My training partner, Ray, and I embarked on our journey at 4 a.m., battling through the foggy darkness on a two-hour drive to the event site.
The Race Options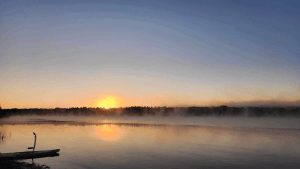 Steelman Racing offers three different distances: one mile, two miles, or three miles. Because I love swimming so much, I opted for the full three-mile swim. Ray decided to do the 2-mile race with his 70.3 around the corner.
The Swim Experience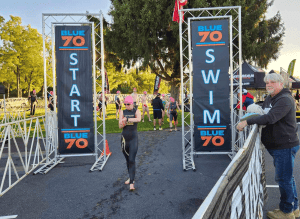 As dawn broke around 6:30 a.m., the lake, with its fresh water in the soothing 70s, beckoned. The swim was a test of endurance and mental fortitude, but it was also a deeply personal experience. As I swam, I thought about my father and his love for water. His spirit became my mantra, pushing me to swim harder and reminding me that no matter the outcome, I was already a winner.
The course consisted of six laps around the lake. There was a bit of confusion towards the end as the volunteers guided me to swim further out, contradicting the race director's instructions to hug the buoys. Despite the minor hiccup, I pushed on.
The Challenges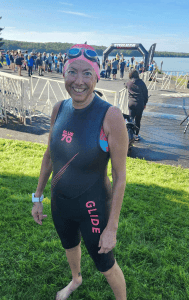 During the swim, I carried a personal buoy filled with essentials – goggles, gels, and a water bottle, among other things. However, it started to weigh me down, and I decided to hand it over to a volunteer. Little did I know, this decision would lead to an unfortunate incident later.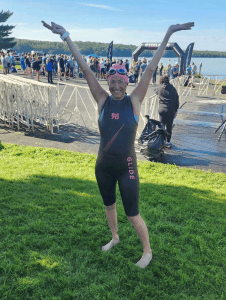 The last stretch of the race saw me in a friendly competition with another swimmer. We jostled for position, but in the end, I let her take the lead. Emerging from the water, I felt a wave of dizziness and a mild shoulder ache, but the thrill of completing the race overshadowed the discomfort.
The Aftermath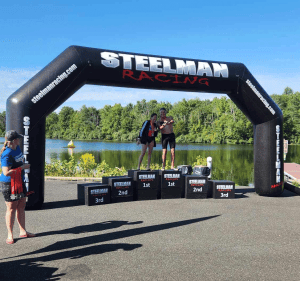 Ray and I were both thrilled to discover that we had won our respective age groups. The joy of standing on the podium, receiving our medals, and sharing a celebratory selfie with the male first-place winner in his age group, was a moment to remember.
After accepting my medal, I stood and waited for Ray to receive his medal. As I waited a young man came up to me and said, "Wow, I can't believe you did that 3-mile swim. Were you always a swimmer?" he asked me.
"No, I started swimming at around 53 or 54. I'm now 61 so it hasn't been long," I said.
"That's incredible," he said. "Were you athletic growing up?"
I laughed, "Not at all. By the way, I talk about it in my book, From Couch Potato to Endurance Athlete. You can pick it up on Amazon."
He smiled and told me he plans on buying it.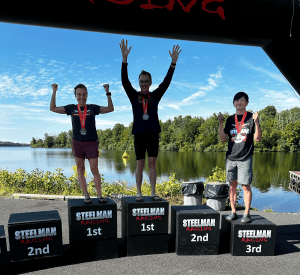 Unfortunately, the day ended on a sour note when I discovered that my personal buoy was empty. My brand new $50 goggles, gu gels, energy chews, and a bottle of Infinitnutrition – all gone. The race director helped me look for my things but to no avail. It was disheartening to think that someone might have taken them.
Final Thoughts
Despite the unfortunate incident, my experience with Steelman Racing was largely positive. The event was well-organized, the course was challenging, and the sense of community was palpable. Yes, the loss of my personal items was a setback, but it didn't diminish the achievement of completing the three-mile swim and winning my age group.
As we headed home after a long, eventful day, I couldn't help but feel a sense of accomplishment. The journey, the challenges, and the victory – all made for an unforgettable experience at Steelman Racing. I will definitely be back next summer, ready to dive into new adventures.