When my friend, Darryn Solotoff invited me to his Masters Swim class at Lifetime Fitness, I was thrilled. For one thing I wanted to check out the gym. I had heard a lot about it.  I also wanted to check out his class.
I walked in early. I was a little disappointed that they wouldn't let me put down postcards promoting the Tri Expo but that's another story for another day! I waited until Darryn got there and then he showed me around. I was totally blown away. Is this a gym or a country club?
I particularly liked that the lockers didn't need locks because they were self locking. We went up to the top floor and he showed me some of the private rooms like the Yoga room, Pilates Room, Spin Class, Boxing, Basketball, you name it, they had that activity there.
Darryn and I trained a little before his masters swim program. We started out on the treadmill and oh I couldn't believe that they had the coolest treadmill ever. It had all the conveniences on it – cell charger, TV, bluetooth, Music, and you could even pretend you were running outside by watching a video.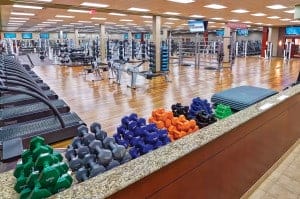 The equipment there was state of the art! I loved that the machines were all computerized and could be stored on your mobile phone. The technology on this gym equipment was amazing!
I was particularly impressed with the swim workout. There were about eight people, four in each lane. Darryn ran a tight group. He was right on point when sending out people so that no one felt like you were on top of each other. It ran very smoothly.  After the warm up, he focused on technique and taught the group how to go faster using the power in your hand, arm and shoulder. It was not an easy workout.
After the workout, Darryn suggested that we go in the hot tub, situated besides the lap pool.  No one had to twist my arm there! I was in just moments after the completed workout!
It was so incredibly relaxing that when I finally got home, I fell asleep and stayed asleep all night!  (I have to do that more often!) Thanks Darryn for the invite!