I've been training hard gearing up for both the 5.5 mile swim and the half Ironman event in North Carolina. So, when my college buddy called and asked if I wanted to meet her upstate to go cycling, I was excited. I had been on the rail trail when I visited my friends who live in Copake Falls, but had never done the southern part of it.
Meeting up in Wassaic
My friend and I met in Wassaic at the Metro North train station there.  We parked our cars for $3 for the entire day, got on our bikes, and rode over to the path. The path is right on the other side of the train station. (BTW, this is the last stop on the Metro North station.)
At the start of the path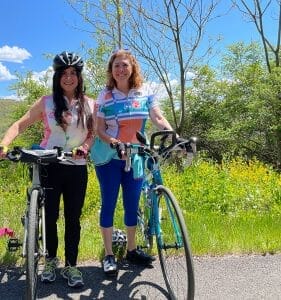 The path starts up again at Wassaic and goes through lots of little towns. The entire Harlem Valley Trail is currently 46 miles and goes into Chatham. We went from Wassaic to Millerton Station, had lunch and went another two miles out and then rode back.
The trail is breathtaking. All you want to do is stop, take photos and just enjoy the great outdoors. Various sections included rock formations on either side, swamps, babbling brooks and small waterfalls. Sometimes, you even see people fishing. It's simply beautiful and feels like a vacation from every day life.
As MariAn (my college friend) and I traveled North, we met two couples who stopped and we both took each other's photos. They were lovely. Actually, everyone we spoke with on the trail was charming and easy to talk with.
Stopping in Millerton
MariAn and I stopped in Millerton and had lunch in a lovely little coffee shop. Although MariAn kept saying how great the coffee was, we didn't sample it. We had Hibiscus Iced Tea instead which was yummy delicious.
After lunch, we headed back on the trail going north for two miles. I was in my happy place.
The Trail
There are several new stretches of the trail from Millerton going north to Copake Falls. From Wassaic to Copake Falls is 22.3 miles or 44.6 miles round trip. (That's my next adventure!)