When I saw the ad in Triathlete Magazine for the Nation's Tri last year, I got excited. Could you imagine swimming in the Potomac River, riding around famous landmarks or even running toward the Washington Monument as you cross the finish line? I thought it would be an incredible experience. So, I clicked the link and signed up.
Happily, I wasn't the only one, many of the members of the All Women's Tri Team also signed up!
So we took a caravan and headed down to DC.  We arrived in town late Friday night and woke early Saturday to pick up our numbers at the expo, which was conveniently located at the hotel. After an expensive breakfast at the Hilton Washington, we headed downstairs to the expo.
It was well-organized and we quickly and easily got our numbers and our cool Nation's Tri tech tee-shirt. The air conditioner was on so high in the expo room and it was quite chilly especially since it was also cold outside with the pouring rain that the coldness went right through you. So I also bought a jacket.
After a briefing, we had a quick lunch and waited for a bus to take my friend, Marti DiPaola, and I on a tour of the capital.  (I won the #50States contest for New York.  Interestingly, two other people won for New York also!)
After that, we went back to the hotel, got our bikes and loaded up the car. There was no downtime.  We were rushing the entire time we were there.  We picked up our teammate, Diane Thibault-Wankmiller, and the three of us looked for a spot around the transition area to drop off our bikes.  Bike drop off on Saturday was mandatory and we only an hour to get everything set up. 
There was no parking around or near the transition area.  We couldn't even park temporarily to do the drop off. There were a ton of cars double parked but when we tried to do that, we were pushed away by the event folks.  We found a lot about a mile or so away and road the bikes to transition. Boy, that was hard with my bag swinging back and forth and hitting me every time I pressed the breaks to get out of the way of all the people.
After a quick drop off and jumping the fence (that's a story for another day), the three of us headed to the La Tomate to meet up with the team. There were 16 of us, not all were racing.  I had never seen a more tired group of women!  I was also exhausted.  I just wanted to go back to the hotel and sleep.  But it really was great seeing everyone. The All Women's Tri Team is really a special group of women. I'm proud and honored to be with such amazing women!
That night, I packed my TYR transition bag, had a quick nights sleep and was down in the lobby by 5 am. The team was already there. I was upset that Diahann McFarlane didn't feel well and couldn't race. I was so excited for her that this was going to be her first race and was looking to share the experience with her.  She was upset too but she was a trooper and helped us set up transition and kept us calm throughout the morning rush.
We didn't know if the Potomac River was going to be open for swimmers.  Last year, the swim was cancelled and with all the rain on Saturday there was that possibility.  The organizers also told us that since the water was so warm, they didn't think it would be wetsuit legal.  But, I guess the rain cooled down the water and at 77 degrees it was wetsuit legal, so we put on our wetsuits.  I was actually debating whether or not to wear it since I feel that I swim better without a wetsuit.
Transition closed at 6:45 am and we were told to congregate around the corrals.  We stayed with our teammates, Gail Myers, Amu Ptah and Rachelle Newton who were doing the Olympic. We hugged them and cheered them on as they entered the water.
Marti, Diane, Diahann and I just waited and watched.  The announcers wouldn't stop talking.  The amplifier was on so loud, you could barely think.  The announcers were yelling into the microphone and it was hard to hear anyone talk. "The first group is out of the swim, now on to the bike," the announcer shouted.  "The swim is over now 2/3 to go," the other announcer screamed.
We were getting a little frustrated since we didn't even go yet and they were announcing that people were 2/3 finished.
When we got close to the dock, we saw our team coach, Lisa Laws.  She drove up with Gail and decided while she was there supporting the team, she would volunteer. She was right in the thick of things. (Besides being a motivator and an inspiration to all the women, I just love the way she gets right in and looks like she's running the show!  That definitely takes a special talent.)
Marti and I were in the same age group.  We stood on the dock and when the horn went off, we jumped in the water.  (I must tell you that this is the first time I jumped in a body of water since the age of 12. It was a good thing we didn't have time to think about it because otherwise, I would have turned around and gone home!)
The Potomac River was awesome.  It was luke warm, almost felt like a bathtub.  (I wished I didn't wear the wetsuit!) I swam pretty quickly around the markers.  I used Sharon Levy of Excel PT and Workout's sighting technique and made sure to take a nice long stroke. The course was well marked and I loved that.  There were plenty of people being pulled from the water.  I was actually surprised how many.  There were a ton of volunteers in the water making sure that everyone was okay.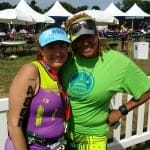 The thing about the swim for me is all the people.  Everyone is just on top of each other and kicking and flailing all over the place. I just wanted to swim but kept getting caught up in groups of swimmers. My inclination is always to let them go, but this time I didn't want to. I wanted to do well on this race, being the last one of the season. Getting out was difficult, that's where most of the bottlenecking took place, that last 100 yards onto the dock.
I got off the dock and saw Lisa.  She looked surprised at how quickly I was in and out of the water. She gave me a high five and I ran off, pulling off my wetsuit along the way.  I ran and walked into transition. As I was running I could hear Marti shout my name. She was right behind me. I asked her how her shoulder was feeling since she's been complaining of issues for a while and luckily, she said it held up. We both ran toward our bikes.
I was in a far away location and it took a few minutes to find my bike. I ripped off my wetsuit, dried my feet quickly and put my Pearl Izumi bike shoes on, then my helmet and unracked my new Felt tri bike. Everyone was running with the bikes out of transition. I should have run, I did a little but I found it difficult clunking around in the bike shoes.
At the mount line, I didn't have time to think. I got on the bike, clipped in and started to pedal. I followed the signs and the people.  To be honest, I didn't even notice where I was. All I was focused on was my power and the road. (Danielle Sullivan, my coach, a former professional triathlete and owner of Iron Fit Endurance, told me to keep my power at a certain level.) That was it. I focused on my wattage and my cadence.
If I passed by any monuments, I didn't even notice. At one point, we went onto a bridge and there was a bit of an incline but not as bad and not as long as the ones in New York or Milwaukee. It was quick with rolling hills. There were a few people who got off their bikes because of bike problems and there were a couple who got hurt. I tried to go hard but be cautious at the same time.
There were a lot of beginners at this triathlon.  There weren't many tri bikes and most of the people on road bikes or hybrids didn't know that you weren't supposed to pass on the right.  (Some of these experienced riders also pass on the right, which is insane to me. It's so dangerous!)  I ended up passing a lot of people (on the left!). It made me feel good since when I was in Milwaukee, it felt as if everyone passed me!
The 16 miles went pretty fast. Before I knew it, I was dismounting my bike and back in transition.  Now, I couldn't run my bike in. I was really getting tired. I racked the bike, then took off my helmet and my riding shoes. I put on my Pearl Izumi Tri Running Shoes, cap and mobile phone belt and ran out.  The run out was far from where I mounted my bike, but in my head I kept thinking that anything could go wrong on a triathlon and if this was the worst thing, then it wasn't so bad!
The first mile was a little rough. I was getting pains in my sides, you know,  the way you used to get them as a kid. My back started to hurt too. I ran a little, walked a little.  I tried shaking out my legs. Then I saw my teammates, Lisa and Theresa.  Lisa said, "wait, talk to Megan…" I put my ear up to the phone and could hear Megan White, our other team coach, say "you got this…" I smiled an ran away.  Then I saw Diahann and her friend. They also encouraged me by giving me a high five and cheering for me.  I smiled again.  I could do this, I thought.
I tried for a PR in the run, like I discussed with Danielle, but it wasn't happening.  I was walking too much. When I was running, I was running fast but the walking killed the time. I was side to side with a Wounded Warrior and suddenly, we noticed several helicopters flying over head. This was the first time I thought that I was in Washington DC. The Warrior gave the helicopters a salute. It gave me chills. I started to get a little nervous that it was the weekend of September 11 and I started to reflect where I was and how scared I was for my children. I quickly erased that image and those thoughts out of my mind.  I had a race to complete and didn't want the negative thoughts in my way. I ran.
I could have run the last mile but something in me kept saying that I needed to conserve my energy for the last quarter mile. As I was approaching the finish line, I could hear someone scream out, "Hilary go for it… Run faster… Run harder…." I didn't know who it was until I crossed the finished line, when Gail Myers crossed the finish line too. Her encouragement made me run an 8 minute mile for that last quarter. Lisa Laws was in the finishers shoot. I hugged her and I hugged Gail and then we saw our cheering squad and I hugged them too. I was happy to be finished. I was happy that this was my last triathlon of the season.  It was a long season and I was glad to finish it strong.
I was particularly excited to see my husband's cousins, Neal and Gail Green at the event. They live around Washington DC and I was thrilled to see them and catch up.  I was also excited to learn that three of my teammates placed in their categories — Marti, Gail and Amu!  That was awesome and I'm so proud of all three of them.  By the way, this was Gail and Amu's first Olympic too!  Cool stuff!
As soon as I finished the race, I noticed that my phone had a text message from Coach Danielle, "how did it go?" she asked. She is always right on top of when I finish the races!  I texted her back but then decided to call. There's something special about being able to call your coach after your race and she's always there, eager to hear all the details.  "Wow, Hilary, it looks like you PR'd the swim and the bike! Way to go!" she said.
That made me feel so good, especially since I tried really hard to pick up the pace.  I actually came in 13 out of 30 in my age group and for me that was a huge accomplishment, since typically I'm at the back of the pack.
As I wrap up my first official year as a triathlete, I look forward to increasing my speed, my endurance and staying in the first third of the pack!