Within the last couple of weeks, a couple of new companies reached out to me and supplied me with samples of their products for review.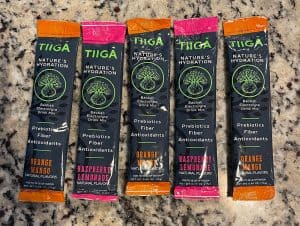 TIIGA Hydration is a new hydration company that comes in two flavors – Raspberry Lemonade and Orange Mango.
What are the benefits of Tiiga?
Raw and organic Baobab is the primary ingredient, a nutrient-rich African superfruit with potent health benefits including magnesium, Vitamin C, phystosterols, potassium, calcium and much more;
Baobob contains over twice the Vitamin C of an orange and more antioxidants than acai berries, goji berries, and blueberries!;
Baobab is naturally high in fiber and prebiotics, which help nourish the good bacteria in our digestive tract;
Low in sugar (only 5 grams per serving) with natural carbs for sustainable fuel;
Helps balance blood sugar in the body and supports weight loss – Tiiga is a tasty low glycemic beverage option;
Every serving of Tiiga delivers 7 grams of the purest Baobab pulp.
Go to the website to learn more: DrinkTiiga.com
Vitalyte
Vitalyte is an electrolyte supplement, that was invented by a marathon runner and chemist over 50 years ago. It was engineered to hydrate you faster. Vitalyte hydrates you faster with 26% less sugar, non-GMOs  ingredients, no high-fructose corn syrup, no additives and no artificial anything. I love that it's a small family run business that makes these supplements.
Go to the website to learn more here: Vitalyte.com
Ndulge Earth
The company reached out to me to check out their Mushroom Immunity. The product includes 7 powerful immune boosting mushrooms plus CBD. It also has Vitamin D, C, Elderberry and Astragalus. The company claims that it enhances natural immunity, promotes energy and stamina, boosts brain and cognitive health and relieves stress and improves moods. You take 2 easy-to-swallow capsules daily and there are 60 pills in a bottle. Invented by two sisters, the product and the whole Ndulge line can be found here:
https://www.ndulge.com/ .