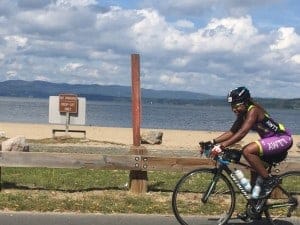 Toughman Race Recap by Shidah Siddiqui
Well today is supposed to be "Medal Monday" in my active circle of groups. It was a busy weekend in both my Triathlete & Running groups from 1milers to full Ironmans. On Friday,  I just knew, come Monday I will have that great finisher medal picture and awesome race report to share on Facebook (FB). Alas, I don't.
Don't worry, this isn't a depressing, sad, tragic report. Yes, I cried. Yes, I'm disappointed. Yes, I'm sad to not share the joys of finishing a great race weekend with my teammies. BUT this Capricorn right here, this Optimist right here, this Hard worker right here will NOT have a pity party…soca music doesn't play at pity parties and you all know I LOVE soca music, so this is will be a "Celebration of Milestones" party.
Time Rules of Toughman NYC World Championship Half-Iron distance triathlon (1.2 mile swim, 56 mile bike, 13.1 mile run)
Swim – 1 hour 10 min from your entry into the water
Swim/Bike (including transition 1) – 5 hours after last wave started their swim or 12:10pm.
Total race cutoff – 8 hours from your entrance into the swim
If you don't make the above cutoffs you will be pulled from the race and not be able to complete the next portion.
I knew the rules, I chose to accept them!
So as I told someone leading up to the race, I knew I could do the distance, the challenge now, is to do it within the time constraints.
Now that you know the rules…what had happened was….
Going into the race, I already had a strategy. Main strategy get past the swim/bike cutoff, so I can get to my love running…lol!
The Swim – Based on training, I knew I wasn't the fastest swimmer. However, if I didn't panic, I would definitely be able to complete the swim within the time limits. I figured I would finish in about 50 minutes. My wave started at 7:00am. (Based on swim/bike cutoff I would have 4 hours and 20 mins for my bike & T1 if I did a 50 min swim)…hmm…when did I become a mathematician. (Accomplishment #1 – Shidah is good at Math…finally)!
My Swim – Great warmup swim, the water was a good temperature, even though it was the Hudson River it looked and felt like a lake because of location. We didn't have the advantage of a current like the NYC Tri. I'm ready. I get hugs from my teammies.
The announcer counts down and off we run into the water and start swimming. I'm feeling good. Sighting the bright orange buoys. I see other Yellow caps around me (that's my wave). Yes I'm in back, but hey. Keep going Shidah. Then the Blue caps of men start passing me…umm did that person grab my foot (don't panic keep swimming)…I'm at the half way point. Swim around Buoy and head back! Checked my Garmin watch, I'm on pace.
Some pink caps start passing me (dang..that's 2 waves behind me). Thinking "am I the last yellow wave person left," then I spotted him, another yellow cap! Umm… but did he just cross right in front of me…oh Lawd, he's zig zagging and hitting me! Try to stay away from me sir! Nope, here he comes again across me. Dang he's messing up my rhythm. Need to get away from him asap! Keep going, I see the final buoy and swim exit! People start to walk instead of swim (it's that shallow at this point). I want to stand, I was about to stand..then I hear me teammie scream "KEEP SWIMMING"….Dang…I won't stand then..lol! Finally I get to point of exit and stand, run out of water. Swim is COMPLETE.. Garmin watch acting up, but I believe in 50ish min (actual time 54:28 min).
Transition 1: okay Shidah you need to be fast. I see Jason (my BTA – Black Triathlete Association teammate). Yell to him a greeting. I put on my socks, bike shoes, helmet, etc. Squirt some Chamois Butr in the sensitive area (no need to explain..inbox me..lol). Grab Bleu from bike rack and Off we go! ( not sure how long it took at that moment, HATE Garmin Auto Multisport option at this point…actual time 5:18 min).
The Bike – During training, I knew my average pace of 13.6 miles was really tight to complete the 56 miles in 4 hours. I needed to be about a 14 miles at minimum. Additionally, the bike course had a MAJOR long steeep hill that we had to do twice and some rolling hills. I figured with fresh legs from tapering and race day adrenaline, I'll make this work. Bleu & I will give it our ALL!
My Bike – off we go…immediately I feel dizzy…Lawd Shidah take some salt, drink some fluids (I didn't during transition). I grab my bottle of Hammer Heed and take some sips, I take 2 taps of the Base salt. Start to feel better. Ummm Lawd the dang hill is here already! Okay Shidah get small ring and shift go up the hill. I see a line of riders SLOWLY going up. Look at Garmin does it say 3mph…ummm…Lawd…wait my cadence is okay..oops I have it in wrong mode…okay it's about 10mph…slow but steady up hill. I will kill it downhill. Finally to the top! Lawwwwd yes! Wait umm this is only 2 – 3 miles into the bike and I have to do this again on 2nd loop.
Actual thought at moment " I have my cell, do I have the dial a friend option for the bike portion". Keep going Shidah…No you don't. Fast forward. At some points I was averaging over 14mph even 15mph. In a 5 mike segment I even averaged 16mph! Feeling good. I'm taking my fluids, eating (had Honey Stinger wafers & Power Bar chews).
Around my 25ish I feel sluggish and hips hurt (this typically happens around this time when I was training). I take more salt, some extra chews and shift on the seat a little. The elites have passed me and are about to finish, I know I'm towards back of the bike pack, but I pass a couple of people and still things are looking good for cutoff.
2nd loop…here comes the hill again….this time SUPER slow…Lawd at one point my garmin says 5mph. Lawd I just did a 5 mile segment in 29min. I start to panic, start doing calculations in my head (remember I'm a mathematician now). Shidah you need to push it! I yell to one of volunteers, what mile is this. He says something and yells "you have plenty of time."
At this point I don't know the actual time of day. My Garmin says it's been 3hours and 48min into the race. Here I go doing math again…smh…lol. 1 hour 12 min to go, approximately under 20miles to go…hmmm…peddle……peddle Shidah! I start repeating my mantra "make the cutoff, get to the run". Glance at the time as I start seeing end of final loop. REALLY close, but the didn't pull me from the course. I get on the final BUMPY narrow bike path, can't go fast because I will get injured.
See the home stretch, hear my teammies screaming, see the bike dismount, yesssss I made it. Umm…wait…what did he say "Congrats you finished the bike BUT you did NOT make the cutoff….I need to take your Chip 395″…..well if you must….womp.. womp.
I continue with Bleu to transition area, shed a couple of tears, I think Bleu shed some also (or was that just chamois butter on the saddle..lol).
(Unfortunately they don't give you your bike time once the chip is taken so I don't know official time, my garmin has me at bike 4 hours 19min). So overall time with swim/transition/bike is 5 hours 28. Since I did the swim in 54 min & transition in 5 min. I needed to complete overall in 5 hours and 18min. Missed it by 10min.
Reflections:
I had a great swim! I came from panicking at the beginning of the training season to feeling comfortable in the Open Water and liking it more than the pool. Now to work on getting faster.
I've learned a lot about climbing hills and shifting. I have a LOT more to learn. I' coming for you BIKE, since you sent for me (did I really reference RHOA messy Kenya quote..lol and smh).
My run pace has super improved. Haven't seen those numbers since 2010. Even though I didn't get to my run portion, I knew I would have killed it! Hmmm maybe I need to sign up for a half marathon asap.
My friends and teammies are DA BEST (Kanye voice). Thanks for the hugs, the jokes to make me laugh, the food, the patron, the sticker (it WILL be earned).
So peeps next year, you unfortunately and fortunately will have to deal with my Facebook triathlon updates again. Since my road to 70.3 has an asterisk with a To Be Continued next to it!