I have always wanted to do the TD Five Boro Bike Tour but it always came so early in the season and I never felt ready. But when they moved the tour to Sunday, August 22, I was all in!
The bike tour starts in lower Manhattan and then finishes in Staten Island. It is 40-miles on car-free roads. In addition, the longstanding cap of 32,000 riders has been reduced to 20,000 because of COVID.
Quote from the President of Bike New York
"We're thrilled to finally open registration for the TD Five Boro Bike Tour," said Ken Podziba, President and CEO of Bike New York. "There's no better way to celebrate NYC coming back to life than by riding in this iconic Tour through the world's most exciting city. We're grateful for the continued support of our government partners, sponsors, and volunteers. Their support enables Bike New York to host the world's premier mass participation cycling event."
The TD Five Boro Bike Tour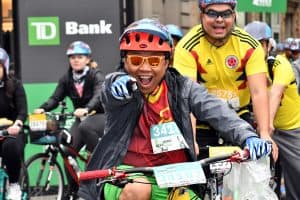 This event is a fundraiser for Bike New York, a 501(c)(3) nonprofit whose mission is to provide free bike education opportunities to New Yorkers.
The 2021 Tour will support the return of Bike New York's in-person classes while sustaining its online offerings, which reached more than 30,000 viewers worldwide in 2020.
Registration:
I hope you join me. It will be a blast and a great way to build your endurance and train for an upcoming fall event! You can register here: https://www.bike.nyc/