As triathletes and endurance athletes, we love to go on action-packed vacations. But when you're with your spouse (who isn't an endurance athlete), where should you go? There are so many different choices. You can go to Disney, go overseas, but not too far away there is a wonderfully romantic place where you will want to take your special someone or the entire family. That place is Vista Verde Ranch in Steamboat, Colorado. I was invited to stay free of charge in early 2022 in exchange for my honest impressions.
Vista Verde Ranch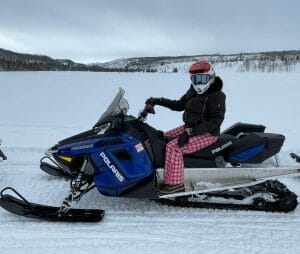 When I went to the ranch in early January, it was an "adult's only" week. So, there were a lot of engaged couples and newly married couples. I met a family from Massapequa who went with their adult children. Everyone I met during the first week of January, said they were having a blast. And, everyone I met from the staff to the guests was incredible!
The ranch has a child care center and families with small children are welcome, but just check the dates on the website.
The Vista Verde Ranch is a special place. It offers private villas, cottages, and hotel-type rooms if you are traveling solo. In addition to that, they provide three meals during the day and happy hour at night with fine wines from the west coast.
Keeping active during vacation
At Vista Verde Ranch, you are nearly 8,000 feet above sea level. So, remember any activity you do, you will feel a little winded.
For many of you, the winter is off-season. During the winter, the ranch offers activities such as horseback riding, snowmobiling, cross-country skiing, tubing, archery, and even feeding the horses. If you want, the staff will take you to Steamboat to shop or ski for the day and then pick you up. (You don't have to rent a car either. The staff will pick you up from Hayden airport.)
Each activity is a blast and the setting is amazing. In the view from my 2-bedroom suite, which also had a hot tub, I saw horses and the sun setting daily. It was truly magnificent.
Feeding the horses
Now you may think that feeding the horses, is no big deal. It's work! You get on a sleigh that has tons of hay and alfalfa. Maddie, one of the workers at the ranch, asked if anyone wanted to cut the haystacks. I volunteered. I didn't realize what I was getting myself into.
I was cutting 25-pound stacks of hay that had a cord around them. We were told to keep the cord away from the animals. Every cut, I pulled the cord out, handed it to another volunteer, and then pushed the hay off the sleigh so that the horses would have food. Boy, that evening I felt it!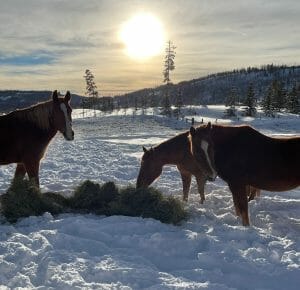 At Vista Verde Ranch, they go out once a day at 3:30 pm to feed the 100+ horses.
It was hard work, but watching the horses get so excited that it was feeding time, made it worth it.
After the feeding, one of the other guests said to me, "wow, you were working. Now, I'm convinced you are a triathlete!"
—
To make a reservation or to find out more information, go to Vista Verde Ranch.
P.S. The horse I rode was named "Topper."