About 10 weeks after meniscus surgery, I went to Colorado on an assignment to cover a ranch. Since the ranch was located about an hour outside of Steamboat, I decided to stick around a couple more days and experience Steamboat.
So much going on at Steamboat
During the week that I was in town, there was a big Texas music festival at the base of Steamboat and the mountain was packed with people. Plus, the ticket prices had gone up substantially to $245 per person. I think that may be the highest lift ticket in North America.
Another alternative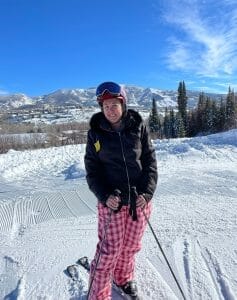 I decided to give the Howelsen Ski area a try. I usually ski on big hills/mountains but it's been a while. What appealed to me about this area was it was run by the town. The ticket price was $40 for the day and I just wanted to Toodle around on the slopes.
According to Colorado Ski, "Howelsen was founded in 1914 by Norwegian immigrant Carl Howelsen and is now known as Colorado's and North America's oldest operating ski area. Not only was it the first, but the ski area has produced more Olympians (nearly 90) since its opening than any other ski area in America."
Decided to give it a shot.
There are two long beginner runs that are on the side of the hill. I wanted to stay beginner/intermediate because of my knee injury. The runs were quick and fast. In spots it was icy and in other spots, it was steep and narrow. The one thing that I loved is that it was fast!
The terrain does cater to expert skiers as well. The site has the largest natural ski-jumping complex in the US. It has 50 skiable acres, 150 inches of annual snowfall.
What I thought…
I thought it was perfect. It wasn't as crowded as Steamboat. It was a no-frills area and I loved the low-key attitude. The runs were challenging and it was perfect for me especially getting off an injury. I would recommend going there for a warm-up before hitting the bigger area.