This was my third year participating in EventPower's SmithPoint Triathlon, which makes me a 3X SmithPoint Triathlon Finisher. I love this triathlon, and every year, the organization and coordination of activities get better and better.
Before the Race:
My friend's Bruce and Mindy have a house in Mastic Beach, about 15 minutes from the race site. So, for the last few years, I've been staying over instead of heading out at 4 am from my home in Nassau County. Staying there, I get to sleep an extra hour. Although it doesn't sound like a big deal, it is at 4 am. The other plus is that I get to spend time with my friends before the race.
This year, Bruce and Mindy decided to come with me to the race site. They had never seen a triathlon before and wanted to experience the excitement.
We all woke up at 4 am and got ready. Bruce and Mindy made coffee, and we relaxed for a bit before heading out. At about 5:15 am, we left the house for SmithPoint County Park.
At the Race Site:
As I was setting up transition, I saw Ray, my teammate from WeRTriathletes and Team Galloway LI. We also saw Stephen and Sandy, both on the WeRTriathletes team. It was great to see them!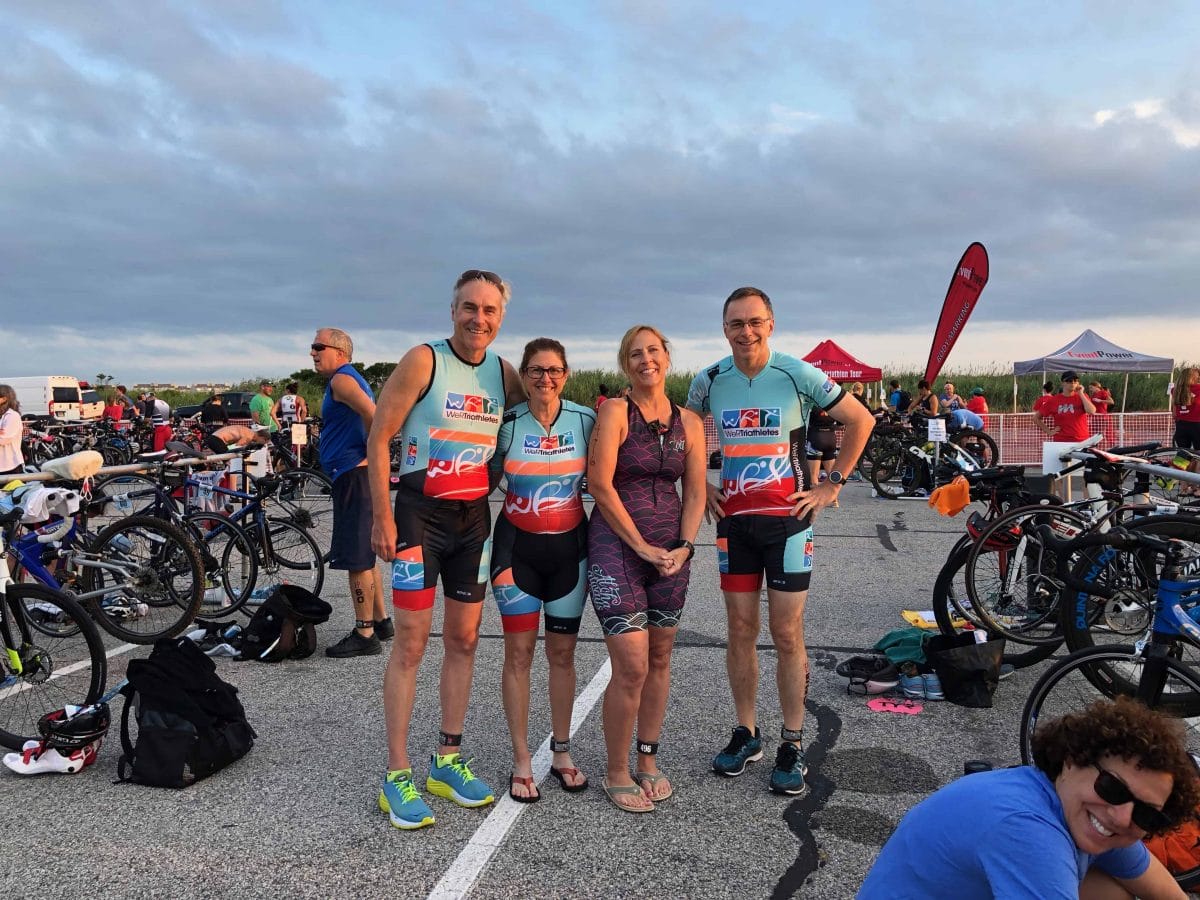 Ray and I decided to take a quick warm-up dip before the race started. Since the race was wetsuit "illegal," it was nice to do a test swim without the wetsuit.
The water was amazingly warm, like a lukewarm bath! Besides being stabbed by rocks on the ground in the water, it was a gorgeous swim. I tried to focus on what Barbara taught me about the stroke. "Protect your face by keeping your arms wide," she said at a recent swim in Jones Beach. "Make sure to take short strokes, as opposed to long strokes in the water."
Race Begins…
The race started with the National Anthem, sung by a Suffolk County Girl Scout. Vicki Ventura of EventPower LI gave last-minute race instructions. Shortly after that, the elite group started. They went out precisely on time! I was impressed.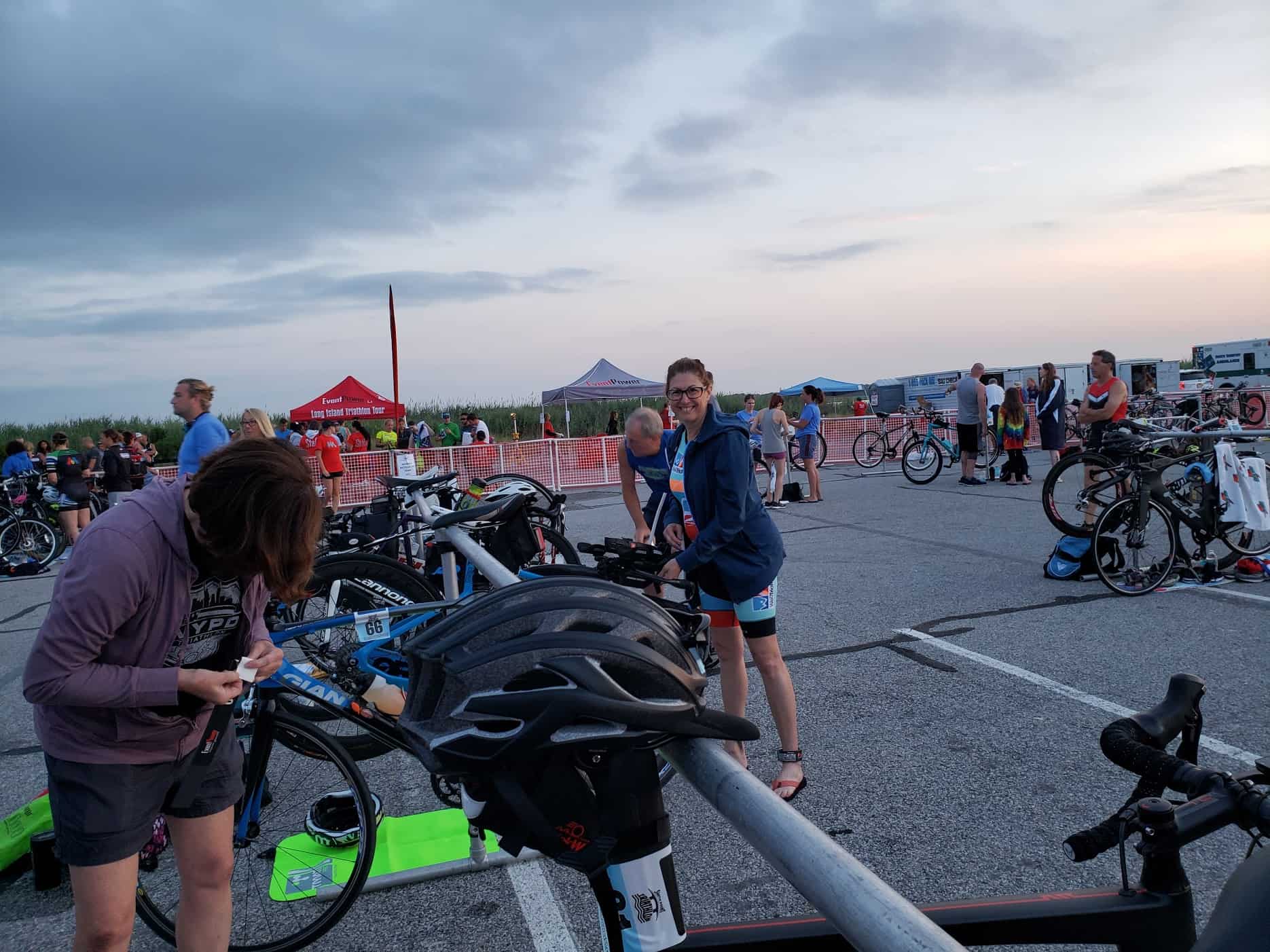 More than 500 people were competing in this triathlon so to start on time with so many people was a pleasant surprise.
The Swim
While waiting to enter the water, Sandy and I talked. As soon as we were in the water, I lost her. There were a lot of people in my age group wearing pink caps.
At the swim start, I also saw Vicki E. It was great seeing her because her smile was contagious and as I entered the water, I had a smile on my face!
The pink caps walked into the water. Everyone was saying "ouch!" from all the rocks. It was hard in the beginning getting in until you were about knee-deep. Then there were very few rocks.
The gun went off. I could see people standing on the bridge watching. I wondered if Mindy and Bruce were there.
I swam and felt great. I loved not wearing a wetsuit! I felt a sense of freedom swimming that when you wear the wetsuit, you don't feel. It's so restricting.
The swim was fantastic. Jackie, another team member, and I were swimming at the same speed. Then we both got caught up in the directional buoy. She tried to swim around it. I tried to swim around it. We both were getting pulled down. There was a moment of panic.
The rest of the swim was uneventful. I was happy to be done before the blue caps (the 40+ men) were in the water. I think there was only one blue cap that caught up with me. I swam a 1:55 pace.
The Bike
I ran into transition. I tried to be as quick as possible, and without the wetsuit, it wasn't hard! I put on my helmet, glasses and turned on my computer and was off. I felt good. I felt one with the bike, which was a significant accomplishment for me.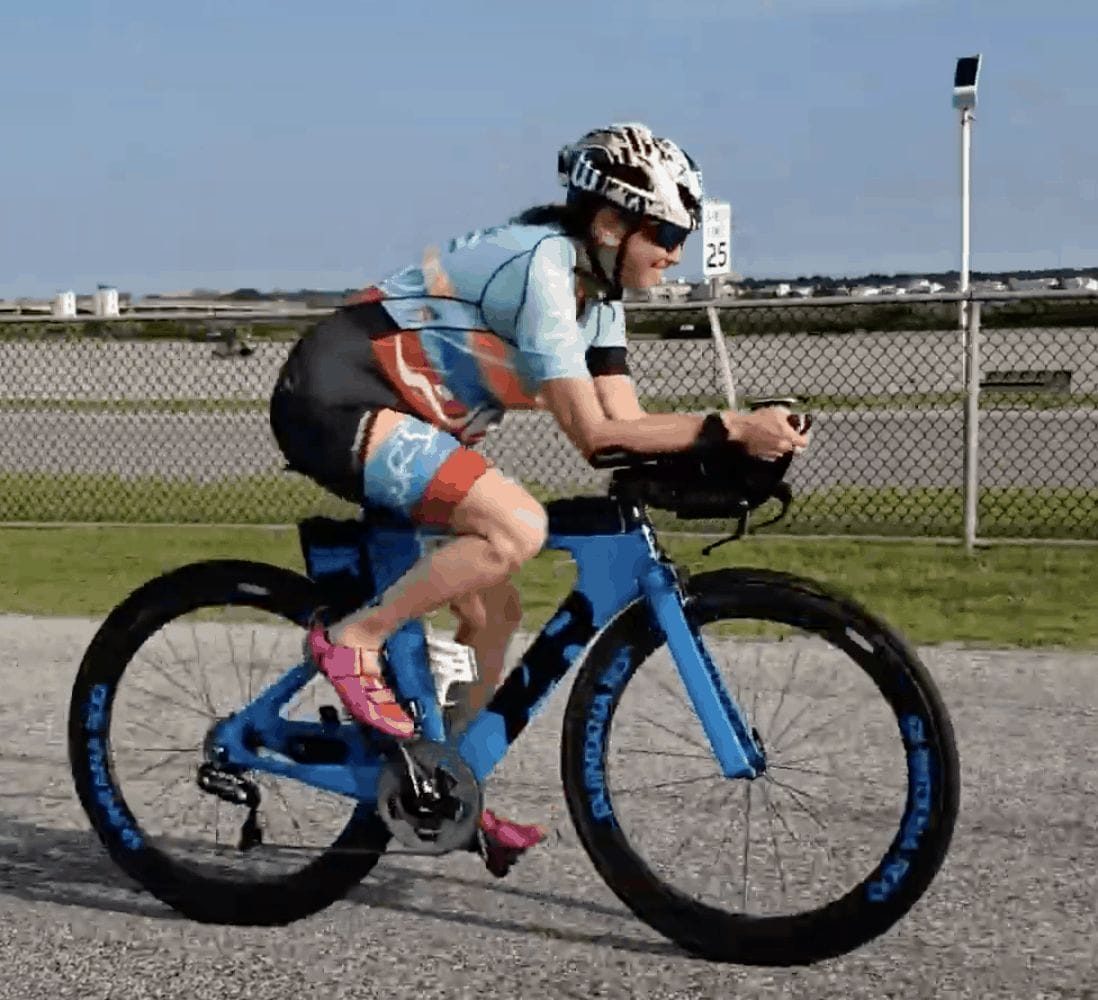 As I was leaving the park to head toward William Floyd Parkway, I saw my friend Noah taking photos. He shouted out some words of encouragement. I smiled.
I love riding my new QR. It's a fast bike, much faster than I am. The faster I ride, the happier the bike is. (I know that sounds a little strange…) It makes me feel so happy to ride, and although I rode about the same as I did the past three years, I was happy with my speed, which was around 16 mph.
It was awesome to pass people. In the past, everyone always passed me. This time it was some people passed me, and I passed others. There were a few people on the course passing on the right, which wasn't cool.
At one point during the bike portion, one of the guys screamed at another rider who passed on the right.
After completing the ride out and back on William Floyd Parkway, we rode over the bridge and back to transition.
The Run
I started a little too hard on the run. My legs felt a bit shaky from the bike. So, I slowed down my run/walk pace from 45/15 to 30/15 and felt much better. I wanted to push myself more. I could hear my son in my head, "ma, you need to go out harder." But I couldn't.
I ran over the bridge and then through a neighborhood. Then, I turned around and ran in. On the run, I saw Ray, Stephen, Sandy, Richie, Jason, and Charlie. I kept hearing my name, which made me smile. But I stayed focused.
Last year and the year before, I was exhausted at the end. This time, not so much. Now, I'm not saying that I felt fantastic ready to go again. I just felt strong.
Interestingly, as I took my final walk break before coming through the shoot, a couple of guys said something to me. I didn't hear what they said, but another guy who was passing me said, "don't listen to those guys. Keep your head in the game and finish strong."
I ran in. I was tired, but I pushed myself to stay strong. I ran a 12:19 pace.
After the race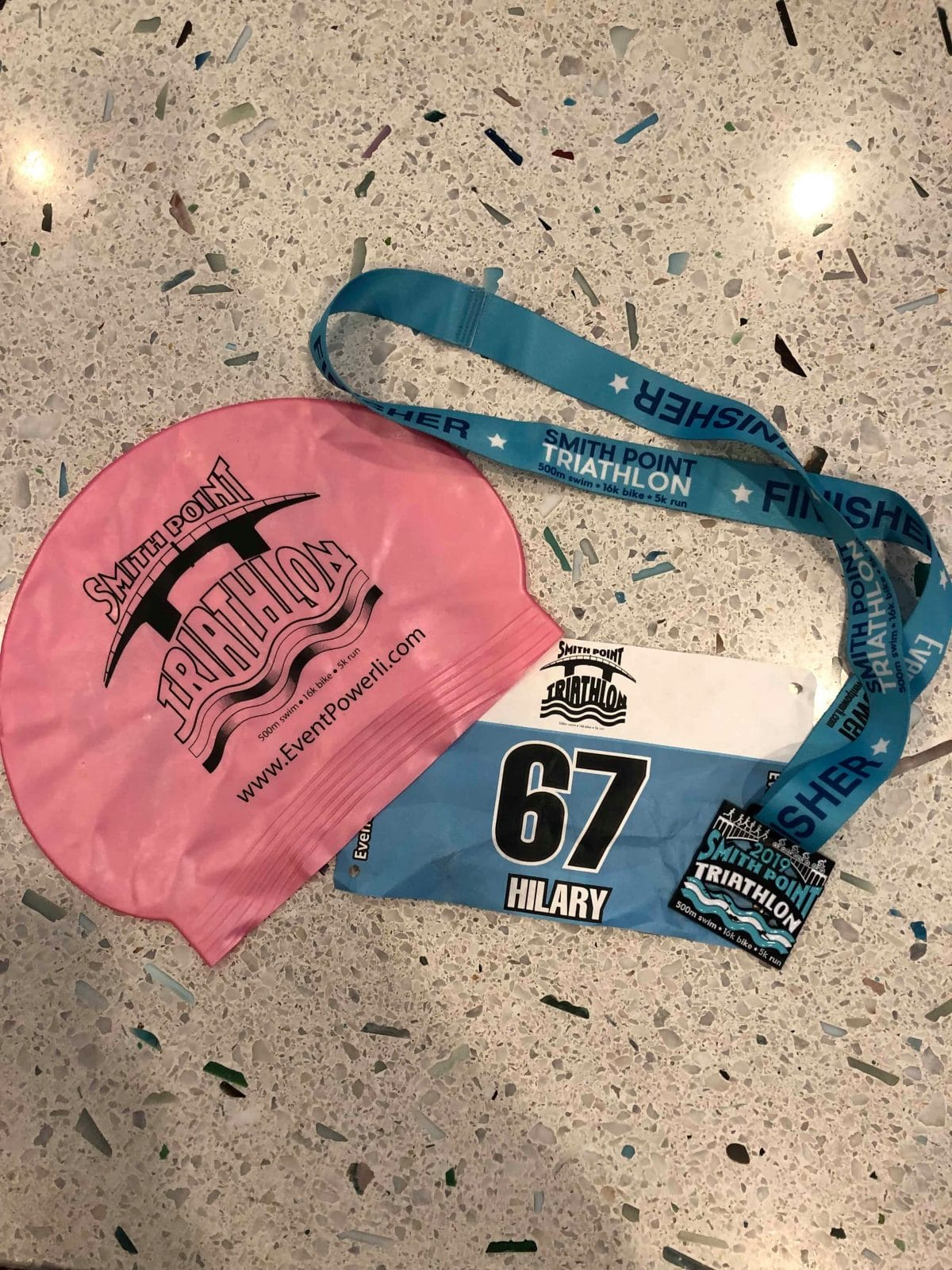 As I came in, I heard Terry, the "voice of Long Island," announce my name. I put my hands up for the "signature pose," and Tara, from EventPower LI, gave me my medal. (I have to say that Vicki, Tara and the entire crew at EventPower LI do a fantastic job with these races. This is no small task to organize an event of this caliber, and they do it with such ease. They never cease to amaze me!) It meant a lot to me to get the medal from Tara!
I went under the shower at the event site at the request of my friend Bruce and washed my face. I felt so much better.
There were a bunch of vendors at the end, plus lots of bagels, peanut butter, and jelly.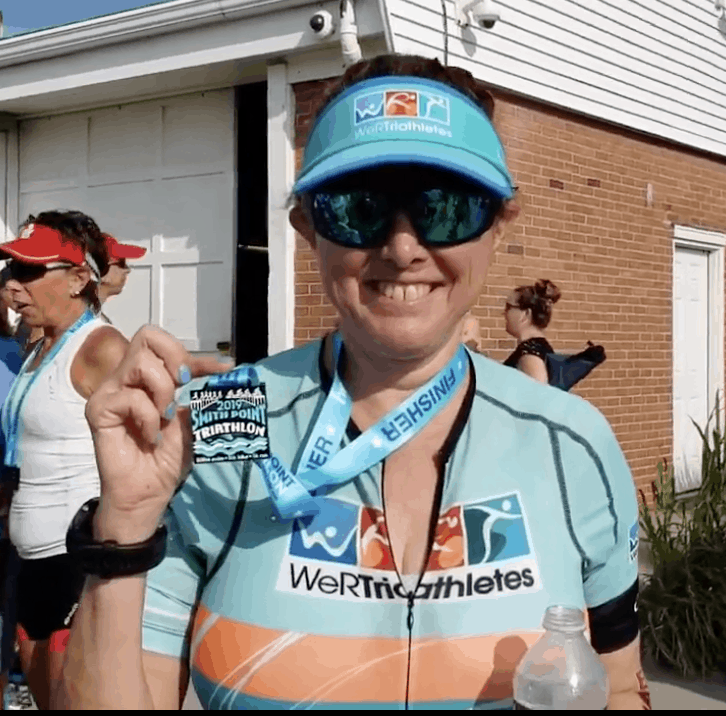 As I was leaving, I saw Vicki V. of EventPower LI. "How was it?" she asked me.
"It was great as usual," I said. Although I didn't do as well as in prior years, I walked away with a big smile on my face thinking, "I'm a 3X SmithPoint Triathlon Finisher."