Whenever there is a triathlon not in your own backyard, you wonder, is it worth going? There's so much logistics between what to pack, how to travel with the bike, is the location worthy of the challenge and more!
Beauty & the Beast Triathlon
Beauty & the Beast, St. Croix's famous triathlon has been in existence for 30 years. This triathlon has been a favorite of the entire community and around the world because of the beauty and it is one of the most challenging courses.
The beast, which is a 7/10ths of a mile climb up hill, will "make you dig deep," said a pro-triathlete in a recent talk.
After Ironman organization left in 2017, Scott Frick and Theresa Harper of VITRI took over the event. Race registrations have been dwindling for years, but, with the help of local sponsors, including the support of the US Virgin Island Department of Tourism, it was re-ignited for its 30th anniversary.
I had always dreamed of doing a triathlon in a Caribbean island, so when I got the email from Keisha Nelson of Marketplace Excellence, that I was invited on a press tour to cover the famous Beauty and the Beast Triathlon, I was thrilled.
In St. Croix…
After a relatively long plane ride, yet, dreaming of the turquoise water and lush Island greens, Sharon Rosario from the Department of Tourism and Heather Gibbs of Marketplace Excellence greeted Dawn Angelique Roberts of Pathfinders Magazine, Rachel Morris, health and fitness writer, and me, as we arrived in St. Croix.
Although Dawn and Rachel were both runners, I was the only triathlon blogger signed up for the sprint race.
I got my badge and my timing chip and attended a mandatory meeting in the transition area the day before the race.
Entering town, I noticed that the terrain was very hilly. There were some real steep ones and my heart raced. To me, coming from Long Island, nothing looked pancake flat.
At the Mandatory Meeting
The race directors invited three pros to talk about the "beast," 7/10th of a mile up hill with a 13% incline. They included: Wendy Ingraham, Catriana Morrison and Karen Smyers.
After the pros spoke, Scott Fricks, the race director and President of VI Triathlon Federation, talked about both the 70.3 and the sprint. (The race had several options this year — Half Distance, Sprint, Relays for both Half and Sprint and an Aquathon.)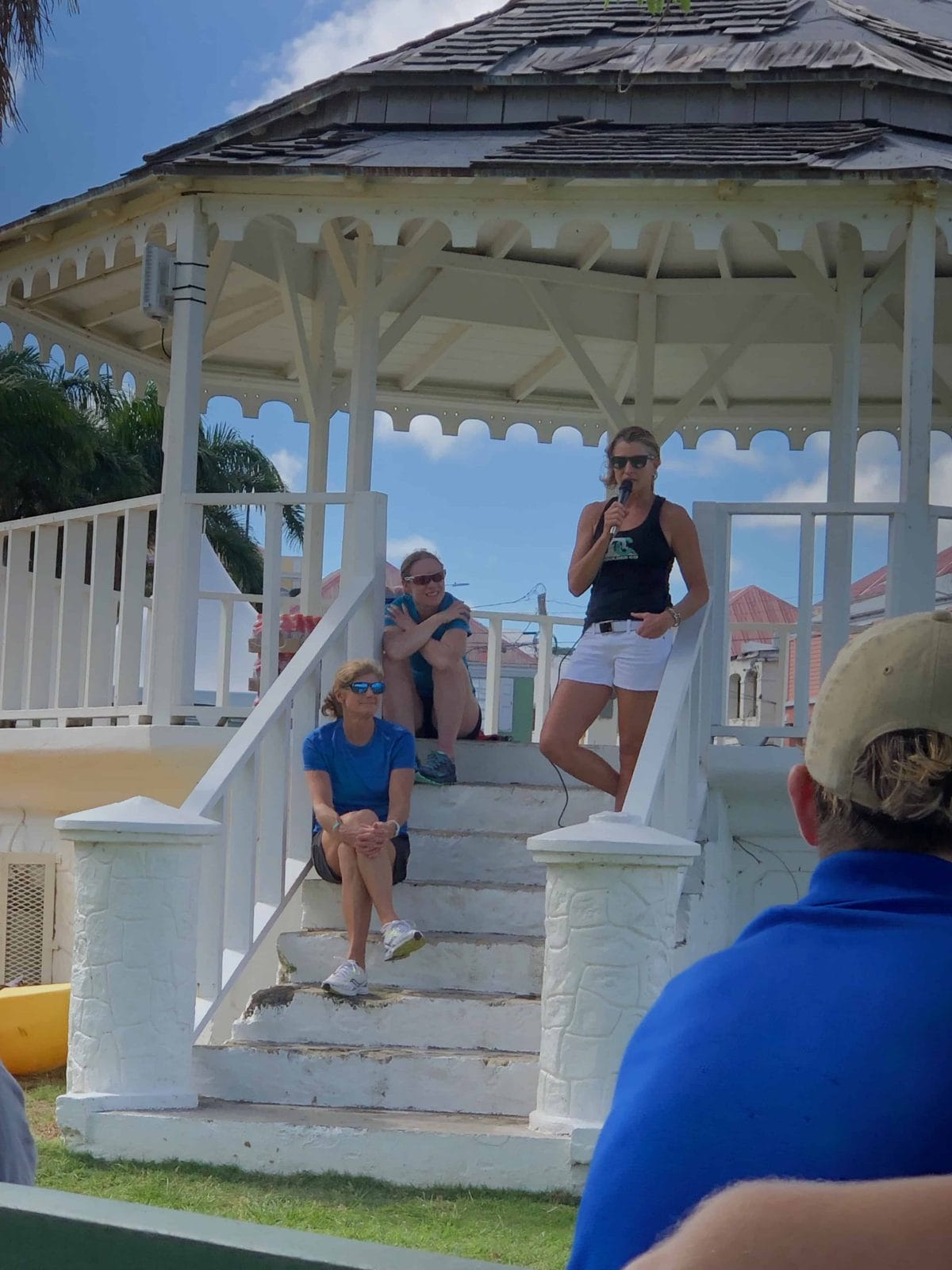 He mentioned that the roads weren't in great shape and that the community was still rebuilding after Hurricane Irma and Maria. "Keep your head up and watch for potholes, grates and puddles, you never know how deep those puddles really are," Scott said.
The race director also noted that the swim started at the island across the way from transition. "You will need to swim there to get to the start. It's a good warmup."
Started to panic…
I looked out and saw the distance and thought it was a good 500 yards from the start line. The day of the mandatory talk, the water was rough. "Hopefully, it won't be this rough, but we will see," Scott said.
Scott Frick talked about the run. "It's going to be a hilly run and hot out there. Make sure to stop at every hydration stand."
I started to panic. Am I ready for this? I really haven't been practicing hills. Actually, since my first wrist sprain, I haven't been doing that much training. After my second sprain, which was pretty bad, I had a hard time swimming too. I trained on Zwift, but I didn't feel I was ready to tackle the sprint. So, I dropped down to an AquaRun.
My first call was to Danielle Sullivan, my coach and former pro-triathlete who raced Beauty and the Beast several years ago. "I just dropped down to the swim/run, but I'm a little freaked out about that too… I need some encouragement. I'm feeling like a loser dropping down from the sprint to the Aquathon."
She was great and spent a lot of time talking me through it. "You will love the swim," she said. "You're a strong swimmer now and will love the water." It helped to talk with her.
Race Day Morning
Race day morning, Heather, Dawn, Rachel and I ventured from the hotel to the transition area at 5:30 am. Since all the roads would be closed by 6 am, we needed to be out.
My gear was set. I was nervous yet, excited.
It was a long wait before actually entering the water. What was simply wonderful was hearing one of the residents sing the "Star Spangled Banner" and then sang, "Oh Beautiful Virgin Islands."
The island was so beautiful, I almost forgot I was still in the US. This put a smile on my face.
All the athletes were amazing too. I was talking with everyone and felt very comfortable. I almost felt as if I were at home racing.
Swim Start
The half distance went first, then the relays, then the sprint and sprint relays, and then the aquaruns.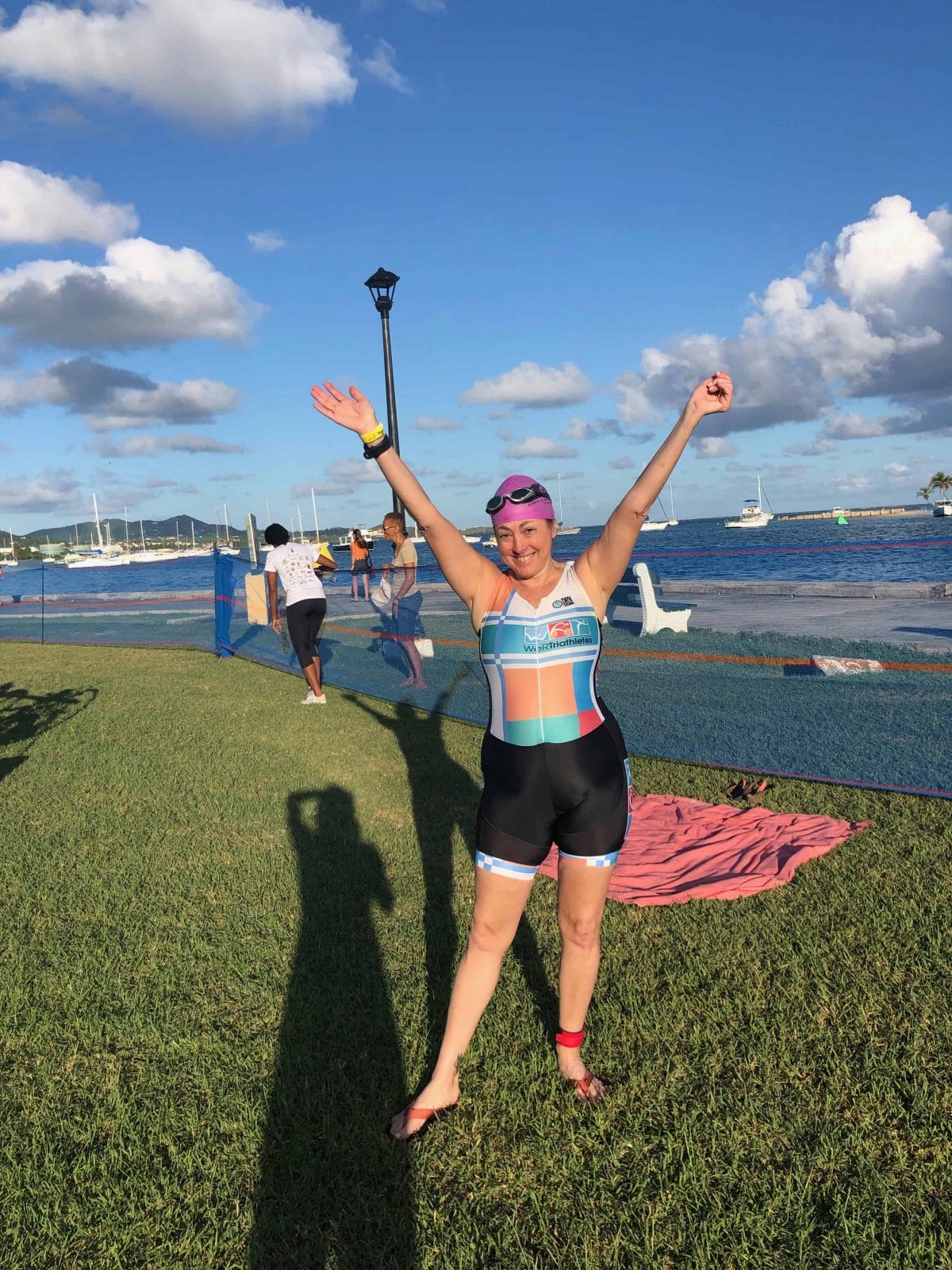 We jumped in the water and swam to the island. It wasn't 750 yards away as I had thought. It was more like 250 yards. Along the way, during the warm up, I saw a turtle swimming by. I thought, "I am now in my happy place."
I got to the island and waited. It was so nice that the race directors thought to put out Honey Stinger products. There were waffle cones and gels. I wasn't afraid to eat the products since I had once trained with them.
After the sprint start, we waited 20 minutes and then started. The water was warm, turquoise, and just beautiful. There was some seaweed but nothing like New York. I let it brush by me as I swam along.
The kayakers were everywhere. I felt as if they were just staying with me. They helped with the direction of the swim. At one point, we were swimming toward a huge pirate like sailboat. It was simply breathtaking.
Many of the athletes around me were doing the breast stroke, which I found odd. I stayed with freestyle the entire way and didn't stop. A few of the swimmers were competing with me, trying to catch up or beat me but I didn't let it bother me, I just swam.
Finally, I was at the last buoy and exited the water. I saw a man with an underwater camera. This must be the folks who were live-streaming the race, I thought.
As I ran into the transition area, I could hear Rachel and Dawn screaming out my name. I smiled. I met some very nice friends here.
The run
As I exited the run out and ran for nearly .10th of a mile, I saw roosters and chickens pass my way. Look at where I am? I thought to myself. This is amazing!
The run was tough. It was hilly and it was hot, very hot. But, the race directors did an amazing job giving out wet sponges every half mile or so, along with water and Gatorade. It was funny at one point, I said no to the water and one of the volunteers stopped me in my path and forced me to take a water. I was grateful he did that.
The run was two miles out and two miles in. The half distance run was 13.1 miles into and around the Buccaneer Hotel. They had to do two 6-mile loops, which of course followed a 56 mile bike on a very challenging course. This was after riding the beast.
The Finish
Our run went through the town of St. Croix for about a half mile and then finished through the gate into transition. As I was running, I could hear the announcer. I could see two Moko Jumbies, a part of the Island's cultural heritage and a major source of spiritual pride, on stilts. They marketed the gateway to the finish line. I was so happy to be done and so happy that I opted out of the bike, although I probably could have done it, I would have been totally blown away.
After the Race…
Every time I saw a volunteer, I soaked myself with water. My shoes and Balega socks were soaked. I could feel hot spots on the feet.
A blister was inevitable. So, I went to the medical tent and they gave me ice. "Put this on the blister and it won't come out," the nurse told me. I kept the ice on my toe until it melted and then I left. The blister was much better.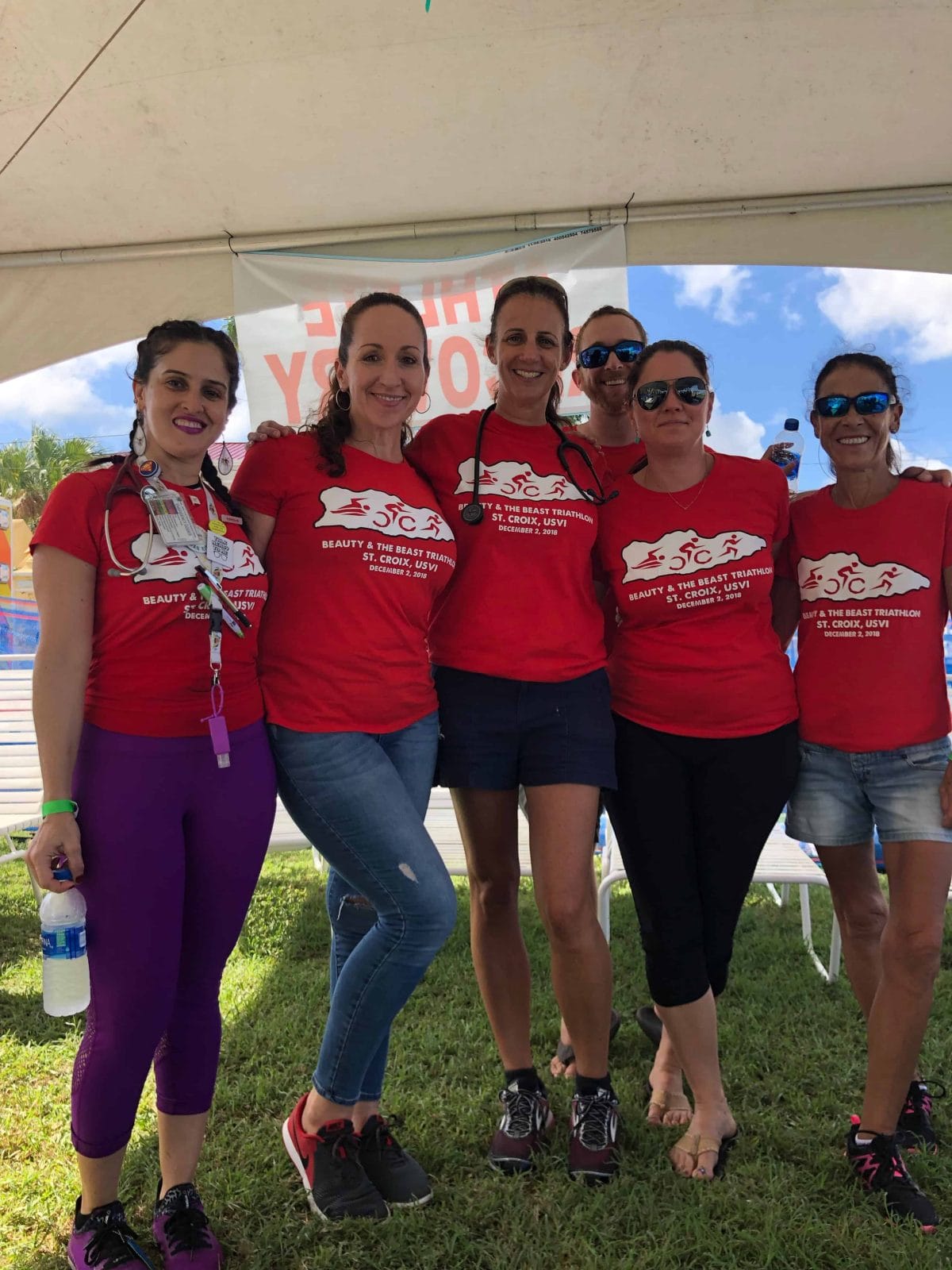 After that, I headed right over to the massage tent. OMG, that's all I have to say, but I won't leave it at that… These massage therapists were incredible. They were from Beeston Hill Health and Wellness LLC.
"Girl, you need to come back tomorrow," the therapist told me. "You really need some work done."
And, after that…
Sharon, Heather, Rachel, Dawn and I waited. The roads were closed and we couldn't leave transition. After a couple of hours, Sharon called the driver and we hopped in the taxi and headed to the hotel. Unfortunately, we were blocked. The 70.3 was still going on and triathletes were on the run portion.
We pulled over to a local bar and had cheeseburgers and beer. (Well, everyone had variations of that.) The cheeseburger tasted delicious. It was the best cheeseburger I ever had. I don't know if it really was or if it was because I hadn't eaten at all before, during or after the race. But it was so good.
Reflecting back
The race was well done, there were ample volunteers on the course, the whole town participated with support, and it really was a race to rebuild. I would totally recommend this race to anyone and everyone. I look forward to tackling it again next year, but this time, I will do the Sprint!