Two weeks ago, I participated in the Rock 'n Roll Marathon 10K in Nashville and achieved a personal best time.
When I arrived at the Alpha Win Hudson Valley 10K race, I tried to maintain an open mind and not set specific expectations. I thought, "If I can perform the same way I did in Nashville, I'll be content."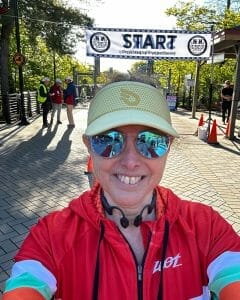 However, to my surprise, I surpassed my previous time and achieved another PR in the Hudson Valley 10K race, beating my record by two minutes!
At the Race
My friend and training partner, Ray, and I left Long Island bright and early at 4:30 am to leave for the race site in Saugerties, NY. We arrived at precisely 6:30 am and were excited to cheer on our friends and training buddies, Monica and Jim, as they set off for their half marathon. The runners for the full marathon began at the same time.
Following a brief catch-up, we lined up to receive our registration materials and bib number. As we waited in line, my client-turned-friend, Dante, and his friend spotted us. It was amusing because as we were conversing with Dante's friend, Dante appeared and received a little introductory comment from her. We both grinned upon seeing each other, and it was lovely to finally meet him in person after all our meetings were on Zoom.
Next, we met up with Joanne, Denise, Tana, and another group from Long Island, and it was heartwarming to see everyone together.
After procuring our race packs, I headed to make one last visit to the restroom before the start of the race. Finally, the race began at 8:10 am.
Walkway Over the Hudson
The Alpha Win Hudson Valley 10K race was an incredible experience in which hundreds of runners participated. The race began at the majestic Walkway Over the Hudson, providing a picturesque view of the Hudson River and blossoming trees.
At a height of 212 feet above the river's surface and a length of 6,768 feet (1.28 miles), this bridge is the longest elevated pedestrian bridge globally, making it a stunning and breathtaking location to host a race.
Miles Flew By
The 10K route started on the bridge and then headed down a protected rail trail.
The miles seemed to fly by, and Alpha Win had organized water stops at three different points along the route, at the 1.5, 3, and 4.5-mile markers. Runners also had access to Gatorade and gels during the race. Plenty of volunteers ensured our safety throughout the race.
I was surprised at how effortless the race felt; my body was pain-free, and the run felt like a breeze.
While running back, I had a chance encounter with a fellow runner who asked where I was from, after I said to her, "This is simply gorgeous."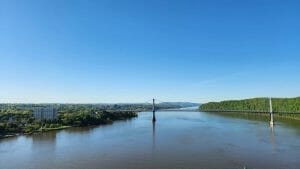 Along the course, I also spotted Jim, who was finishing his half-marathon race. It was great seeing him and he encouraged me to keep it strong.
Finally, as I crossed the finish line, I felt amazing, even though I wasn't sure if it had been a personal best. The experience of running in such a beautiful location was more than enough.
PR and 2nd Place AG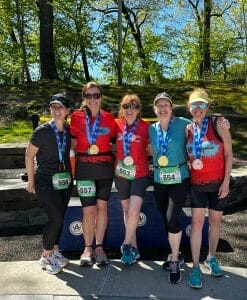 As soon as I finished the race, I checked my phone for my race results and was overjoyed to see that I had PR'd by two minutes and achieved second place in my age group. The feeling of accomplishment was indescribable, and at that moment, I knew that all the hard work and effort put into training had paid off.
I asked my training partners if we could stay for the awards ceremony, and I was glad we did. It was heartwarming to see other women from our group, including Joanne and Tana, win their age groups. The atmosphere was electric, with cheers and applause filling the air as each winner collected their awards.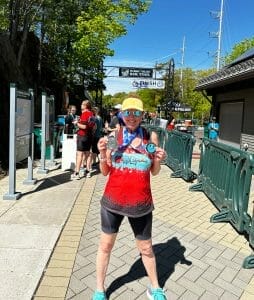 Being surrounded by so many inspiring runners who shared the same passion made this experience even more memorable. It's something that I'll cherish and look back on with fondness for years to come.
The Alpha Win Hudson Valley 10K race is a must-do for every runner. It isn't just about finishing the race; it's also about the journey, the feelings, and overcoming your limitations. If you missed out this year, I would highly recommend signing up for next year's race.