Could you imagine working for a company that has the following motto?
"To Inspire our team and our guests to be the best versions of themselves through our extraordinary culture." 
Well, that's what Bolay Kitchen is all about.
Founded in Wellington, Florida in 2016, Bolay Fresh Bold Kitchen is a build-your-own 'Bol' restaurant taking a customizable and modern approach to dining. Created by Outback Steakhouse Co-Founder Tim Gannon and his son Chris Gannon, Bolay is dedicated to providing all the quality and excellence of modern dining through the convenience of a fast-casual concept. With menu options that include Lemon Chicken, Spicy Thai Shrimp, Asian Sweet Potato Noodles, and much more. Bolay's menu truly has something for everyone and is on a mission to inspire others to live boldly through the power of fresh food.
The other thing about Bolay Kitchen…
The owner, Chris Cannon, who is also on my
WeREndurance Athletes Triathlon team
, has a Bolay Triathlon Team as well. Many of the staff are triathletes and compete in endurance races throughout Florida.
Here are some photos of the team: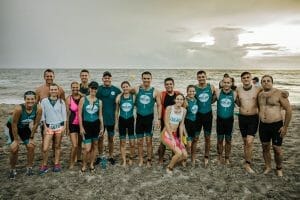 I absolutely love their energy and their excitement for triathlons and they put that excitement into everything they produce at the Bolay Kitchens.