Who can sleep? If you're like me, you are all wound up from stress between family, work, and training that sleep, which is so important for us as athletes, gets neglected. That's why when I saw that Crescent Canna, a sponsor of this blog, had a new Crescent CBD Sleep Gummies on the market, I wanted to review them.
Crescent CBD Sleep Gummies
These sleep gummies are free of THC. There are 15 gummies in each jar and 10 mg of CBD and 10 mg of CBG in each gummy. In addition to that, they are enhanced with melatonin and theanine. The gummies are thoroughly tested and you can see the certificate of analysis here.
According to their website, "CBG has stress-relieving effects that promote a balanced mental state, helping you relax and fall asleep. It's even more effective when paired with CBD, which has its own soothing and sedative properties.
These CBD Sleep Gummies also contain 4 mg of melatonin, a natural hormone released in your body when it's bedtime, and 20 mg of theanine, a natural compound that eases stress and helps you sleep. With CBG, CBD, melatonin, and theanine, Crescent Canna's CBD Sleep Gummies are the ultimate sleep aid.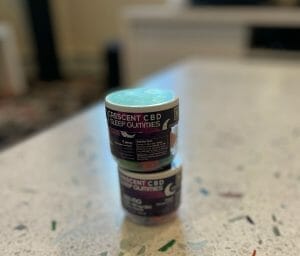 Sleep should be easy, which is why these convenient CBD gummies for sleep are perfectly dosed to support your sleep cycles. Because the gummies are travel-sized, you can take them on the go so you get a good night's sleep whether you're at home or away on a trip.
Each CBD Sleep Gummy is THC-free and contains over 99% pure CBD and CBG isolate extracted from hemp that is grown in the United States. Like all Crescent Canna products, they are lab-tested for quality and purity."
They come in a variety of tropical colors like orange, teal, green, pink, etc. The gummies taste pretty good. They are fruity and don't have a bad aftertaste like some of the other CBD gummies on the market.
Taking them for a test drive
I decided that I would take one on a night when I was having a difficult time getting to sleep. I ate one. Within a couple of moments, I was in a deep sleep. I had REM dreams that night and I did awake several hours later, at which time, I took another gummy and was asleep through the morning.
When I awoke, I felt refreshed.
I'm not one to take melatonin or CBD but, when you need something to help calm your mind down, these really do the trick. People who have tried them would agree. Just check out their website for all the five-star reviews.
I've been finding that Crescent Canna is a great product, especially for the pain and soreness associated with working out. I've been using their creams and they work really well.
You can check them out at https://www.crescentcanna.com/ and use the discount code: TOPPER30 for 30% off all of their products! You won't be disappointed!