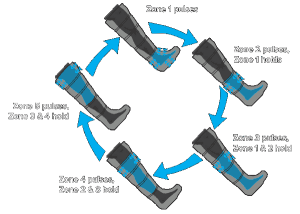 I bought NormaTec and this is what I thought…
I was first introduced to NormaTec at one of the expos I attended. They seem to be at nearly everyone these days, so I decided to give it a try.
I stood on a long line and then, when I was next, I was asked to take a seat in an anti-gravity chair.  A young man helped zip up my legs into what looked like long leg gloves. He then hooked up a tube to the legs and started the treatment.
At first, it felt odd. My legs felt as if I were wearing a super large blood pressure machine. It squeezed my legs tight.  It started at my toes and worked the pulsating squeeze up my leg to my thigh. When the 20 minutes was over, I got out and felt incredibly relaxed and rejuvenated.
I was sold.
How much could these "babies" cost? I need a pair.
When I looked on their website, I saw that they were $1500. Now, with all the other triathlon gear you need, to squeeze $1500 out is a lot. (Pulling together $1500 anytime is a squeeze!) But, after training for the NYC Marathon and feeling horrible every day with little in the sight of recovery, I decided to take the plunge and buy myself a pair.
Until the NormaTec arrived at my house, I was a mess, thinking, "how could I have bought that? I can't really afford it. Why would I do such a crazy thing!"
The day the NormaTecs arrived at my house, I immediately opened, read the directions and put the sleeves over my legs. I stayed in them for 40 minutes. Wow, that's all I have to say!
I so impressed with them that I had my entire family try them out, including my father, when I went to the Miami Marathon to pick up my number. I use them all the time.
Recently, since I've been having hip issues, I decided to take the splurge again and buy the hip attachment for an additional $500.
Now, between the hip attachment and the legs, I'm feeling recovered every time I use them. I even brought them with me when I went skiing in March. Between the plane and the skiing, I was happy I brought them. It definitely enhanced my performance.
For my readers and team members, Normatec is offering $100 off the price using the code WRT17. I know you won't be disappointed! They work great so far and I absolutely love them!