Castelli Donna Collection Review

Castelli recently introduced a new line of running and triathlon clothing that is sure to be a winner in the triathlon market. Fortunately, I recently had the opportunity to test drive two of their new products and here's what I thought.
The ALII Run Top is incredibly light weight. It has so much ventilation and according to the website, it is loose fitting and extremely comfortable for a run. The fabric is quick drying and literally weighs next to nothing. What's awesome about this run/tri top is when you pour water over your head to cool down, the shirt
quickly dries so you're not finishing the race in a wet shirt. The two things it has going for it is breathability and lightweight. It's perfect for a hot July or August race!
It's made of 70% polyester microfiber and has open mesh ventilation. It also blocks 93% of the UV rays from the sun.
The run/tri top retails for $44.99.
The Free W Tri Short is also an interesting design. I love the way the bottom hugs my thighs. They are super comfortable. According to Mirinda Carfrae, "The liner in these shorts is a bit bigger and thicker than in most tri shorts, but you really appreciate the comfort on the bike. Of course, the trade-off is always on the run, but you don't really even feel it on the run. Clearly it's not slowing me down!"
This product is also light weight and extremely breathable. It has a proprietary "Instadry Speed" fabric that is fast in the water and has minimal absorption. It also fits like a gem. I would suggest going down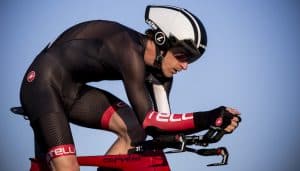 a size since it runs true to size. (I like the tri shorts to fit a little tighter.)
It also has two small pockets on the hip to keep a gel with you on the swim bike run.
The retail price on the tri shorts is $99. Both the top and shorts can be purchased on the website or in a retail store. Check the Castelli website for retail stores near you.