Gina Cornell of Wausau, Wisconsin had a few moments to sit down and talk with me for the Faces of Triathlon feature. Gina is the CEO of Ciao Bella Athletics, a triathlon apparel company that works with athletes around the world. She is also a triathlete.
Why did you decide to start triathlon training? What was your why?
I gave birth to my daughter, Isabella, and gained so much weight. When I went for my annual checkup, the doctor told me I needed to lose weight because my cholesterol was high, and I could end up with diabetes. I knew I needed a change, so I joined a gym and hired a personal trainer.
I starting to lose some weight. While I was at the gym, I noticed a sign for a small pool triathlon that was taking place near my home. A friend wanted to do it with me, and we both started to train. The triathlon was so incredibly hilly, that I had to get off the bike.
There was a truck that trailed behind the last triathletes and asked if I wanted to quit. I didn't. Even when I got to transition, the truck was behind me the entire 5K run. It was embarrassing and upsetting but I knew I needed to finish the race.
As I entered the finishers chute, the race director was crying and cheering for me. Just getting that love from the crowd and the race director got me hooked. After that, I could care less that I came in last! I realized that no one cared if I finished.
After that, I was hooked. I did a bunch of small sprint triathlons, women-only events, and thought to myself, "maybe I should do a half Ironman?"
What year did you start?
I started in either 2010 or 2011. It's been a while.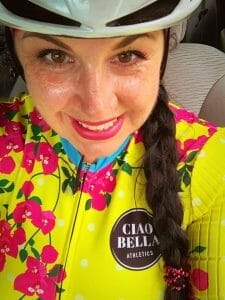 Were you athletic growing up? If so, what sports did you play?
Yes, I was athletic, but I was not a runner. I was an avid skier and competed in downhill ski racing. I also loved watersports like waterskiing, sailing, and swimming. I just loved being in the water.
What was your favorite race or your greatest achievement?
I think for me it was Ironman Cozumel. This was a race I would not quit.
In 2014, I was pulled from the course at Ironman Wisconsin. I was running and at mile 19 when I got pulled. So, what did I do? I ran those last seven miles the next day.
I was so upset. My mother came over and said, "why don't you just do another one?" And, that's exactly what I did. I signed up for Ironman Cozumel.
That race was amazing. The swim was fantastic. The bike was ridiculously windy and slowed me down. I was stopped at mile 20 on the run by the moped. The guy told me I wasn't going to make it. "If you run, you may make it to the finish," he said.
I made it to the finish line, but I was over by 10 seconds and never officially got the title of Ironman. They were nice enough to give me a finisher's tee shirt and medal but I didn't make the cut-off.
My goal this year is to officially finish. This will be my 7th attempt.
What do you have planned for this year?
I signed up for Ironman Wisconsin as training and Ironman California as my official Ironman this year.
Tell me about yourself. Are you married? Children? Ages? What do you do for a living?
I'm married to Kevin who is a school resource officer. He's also an Ironman. We have a daughter, Isabella who is 19 years old.
I have my own business, Ciao Bella Athletics. The name is my background because my family is from Sicily and my daughter is "Bella." I want people to wear these kits and feel beautiful.
Gina makes all her triathlon apparel for all women of all sizes. She is currently making a line for men as well. Most of her triathlon gear is made to order. "I designed these great chamois that are super comfortable, and I have a linking system that holds the kit together."
My latest venture is to develop "Honor Kits." So, if you are racing in honor of someone or in memory of someone or something, I can design an individualized kit for you to wear."
To contact Gina, go to her website athttps://ciaobellaathletics.net/. (She has beautiful triathlon kits. I've reviewed a few on my blog and love them!)