On June 1, Global Running Day, I attended the Brooks celebration of running. I got to sample a couple of the new Brooks gear including: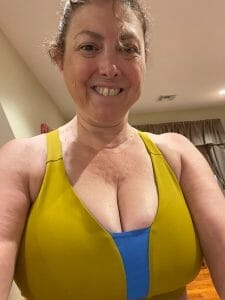 At first glance, I thought this bra would be too flimsy and not keep me from bouncing, but, I found it to be really comfortable and a perfect fit for me. I've used it since the event several times and have washed it. It keeps to the shape and is probably my favorite bra so far. I really felt that the cross bars in the back held me up well and although you had to put this one over your head, it was easy to put on. This is currently on sale for under $30.
These are great but unfortunately, I was unable to find the one I got on the website. The graphic tee shirts are lightweight and are not clingy when you sweat (and I sweat plenty). Prices range from $30 and up.
I love these but not so much for the summer. These 3/4 tight pants are perfect for the spring and the fall (or a cool summer day). They are super comfortable and currently on sale on the Brook's website for only $50! They come in four different colors – blue, red, brown, and black. Mine is black. (You could actually wear them as leggings to go out if you like. They are that nice.)
I absolutely love Brooks Running Shoes. The Brooks Ghost 14 are exceptional. They have a quick response, are light, and are amazingly comfortable. What I love most about Brooks is that the Ghost shoe comes in so many different colors and patterns. It makes it just a little more fun to run with them. Price: $140
The thing about Brooks for me is that by wearing the Brooks gear, I run happy.