I sold my Trek Silque road bike. There, I said it. I felt bad about it but decided I wanted an upgrade and purchased a QR road bike from a local bike shop. I needed the money to put toward my new bike.
After the woman picked up my bike and I helped her put it in her car, I walked back into the house feeling sad.
Why was I sad?
I felt sad letting it go because of the history I had with the bike. It was my very first road bike and we had lots of great experiences together. I used it for the Montauk Sprint, NYC Triathlon, USAT Nationals in Milwaukee, and the list goes on.
We had amazing experiences that we shared together. (It sounds as if we had a love affair? Haha… maybe we do with our bikes?)
On Facebook
I posted something on the Pathetic Triathlete page and got a ton of comments. Most triathletes agreed that once you have a bike, you keep it FOREVER. One woman confided that she still has her first bike when she was in second grade.
Another woman said, "Think of how much more love it's getting from the new owner than just sitting around in your garage."
She was right. Do I really want it to take up more space in my home?
Then I started to think…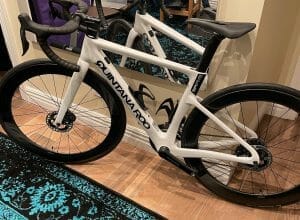 It feels good to make someone happy with a bike that I loved so much. And, with my new QR, now I have a whole new world to make new memories that will last me a lifetime. I look forward to sharing those memories with you in the future!
Tell me a time that you felt sad after you sold or didn't sell your bike. I'd love to hear it in the comment section below.